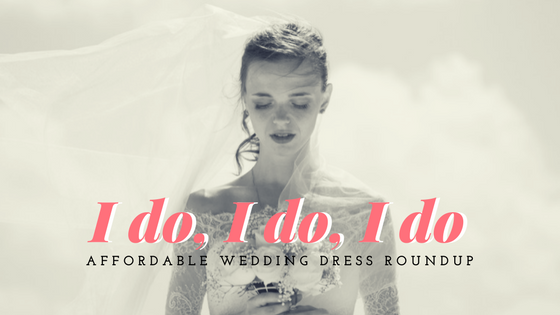 Ah, yes. It's that familiar season. And if you read our blog title you'd know what this article is about. Typically, there are two intense wedding seasons in Malaysia and the first one starts sometime around now and builds up until June. But what's so special about this year's wedding season that it gets a whole write up all about it?
Erm… maybe because the BIGGEST WEDDING OF THE YEAR of Prince Harry and Meghan Markle is coming up on May 19th? Truth be told, we are pretty excited. So much prettiness in the fashion and accessories department coming up and we just can't wait!
Some of you might be in the blissful throes of wedding planning too. But unlike the royal family, you don't have an abundant budget to throw around. Let's face it, not many of us can get the wedding of our dreams. Already, the per table price set by hotel venues already eat up 75% of your budget. So most of the time brides-to-be settle for packages from bridal studios that may turn out to be more restrictive than they market themselves to be.
But what we want to show today is that options are possible! There are plenty of ways to get a dress true to your heart and your wedding theme and staying within budget. The best part? You get to keep the dress!
SIMPLE AND WHITE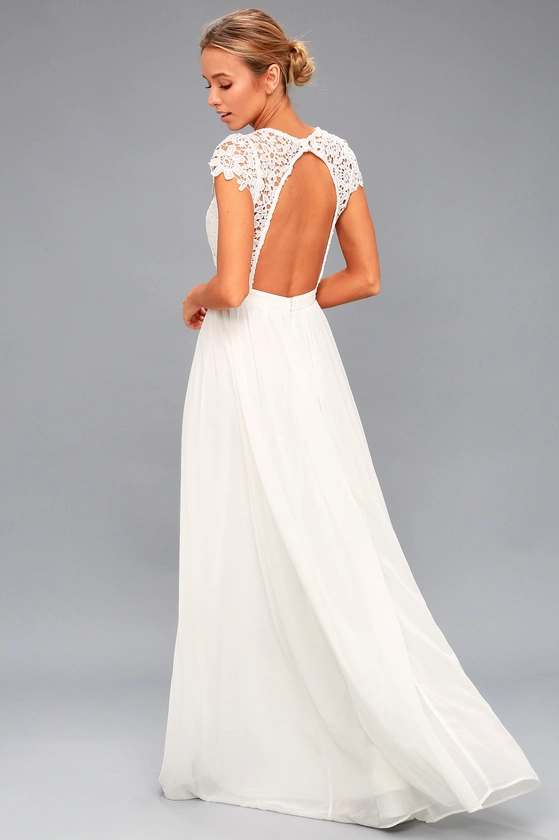 If you aren't a fussy bride, and all you feel you need is love on your wedding day, then really you might think all that is needed in the gown department is a simple white dress. What we were surprised at is that LULU'S has quite an extensive range of extremely affordable wedding dresses. If you need convincing that you don't need to spend money on a big, poofy gown to look good on your big day, then this is the place to be. They tend to favour designs that amps up the natural sex-appeal of a woman. We like the timeless look of this Florianna Lace Maxi Dress. The eyelet lace on the bodice gives it the right amount of sweet with a side of sexy, thanks to that keyhole backless design. And because it works like a blank canvas, get a pretty sateen sash for around the waist to up the oomph factor. Even if you still can't see it as a wedding dress, it's affordable enough to get for your pre-wedding shoot.
COST FACTOR: $
VINTAGE PRINCESS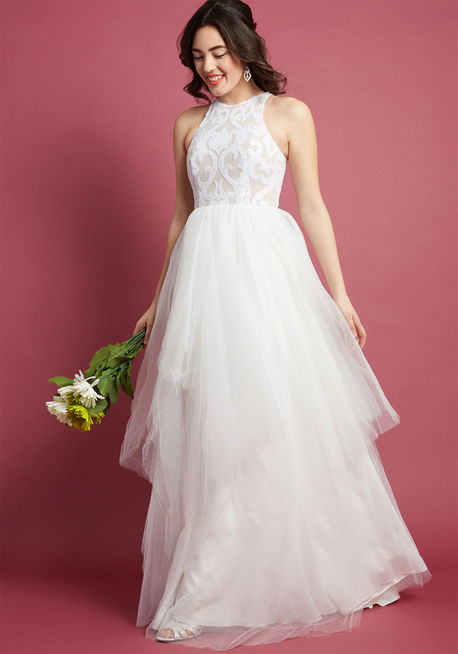 MODCLOTH is well known for specializing in clothes and dresses appealing to ladies of all shapes and sizes who love vintage inspired threads. And it was to our delight that we discovered that they have branched out in the world of wedding dresses and have quite a collection of pocket-friendly wedding dresses. The dress we chose to feature is this Glimmer of Elope Maxi Dress. What we love is the sequined bodice that looks like a modern interpretation of damask wallpaper designs. The website also has plenty of user reviews and we can't help but remark that there were plenty of positive things buyers have said about the dress. And a lot of them say how they felt like a princess in it! Look at the real life review photos and be convinced.
COST FACTOR: $
TOP TO TOE DESIGNED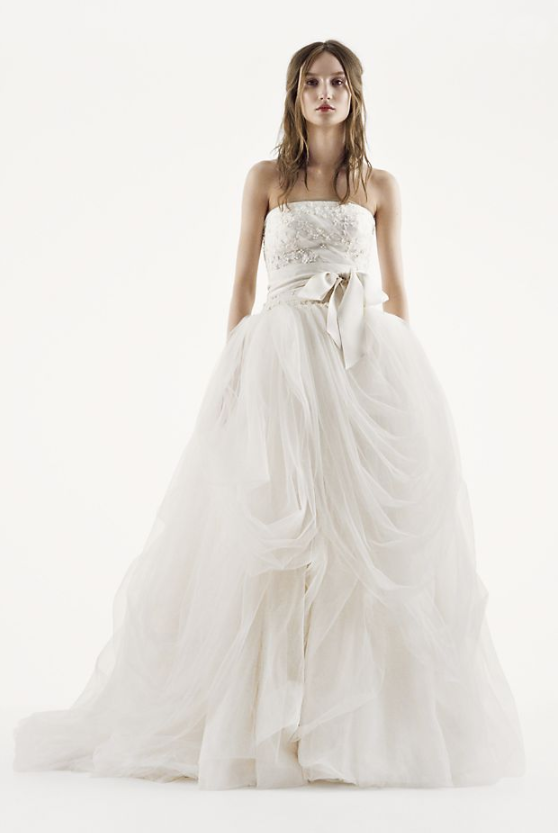 If do pay attention to specific wedding gown designers, then you won't be surprised when your internet searches take you to the pages of DAVID'S BRIDAL. David's Bridal is a great starting point for brides who are shopping around to purchase a traditional wedding gown from a reliable source. They stock gowns from well known designers like Vera Wang, Zac Posen, Jenny Packham, and Cynthia Rowley. One gown that caught our eye is this Tossed Tulle Wedding Dress by Vera Wang. The tulle skirt comes in her very lovely signature gathers that definitely feels very romantic. And we know gowns like these may get heavy, but don't worry we got you covered. Send the dress via free shipping to our US address and we will make sure you pay an affordable price in getting it home, and not nearly as much as the dress itself.
COST FACTOR: $$
ENLIGHTENED EDGINESS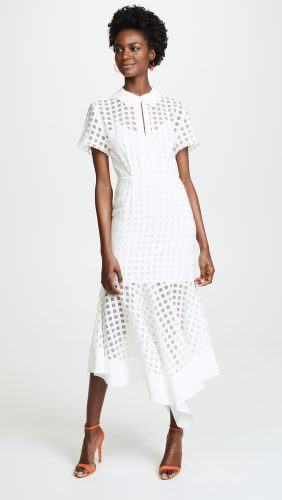 There is a whole section of white dresses available on Shopbop. And what we found when we were looking around was that many brides who have done their shopping in the past (and of whose wisdom we are benefitting from) say that hanging around Shopbop is well worth their time because they managed to get the dress of their dreams at an unbelievable bargain. The only thing better than getting what you want is getting what you want at a discount! In the midst of our browsing, the Adeline Dress by Milly really stood out to us mainly because it was so unconventional. We can definitely see a few friends wearing this on their big day, topped off with a fascinator and statement shoes. And IOMHO (in our most humblest opinion), it may be a shorter dress, but if you're a bride who knows how to pull it off you'd be too busy looking fab to care about struggling with a train!
COST FACTOR: $$
LAID BACK SOPHISTICATION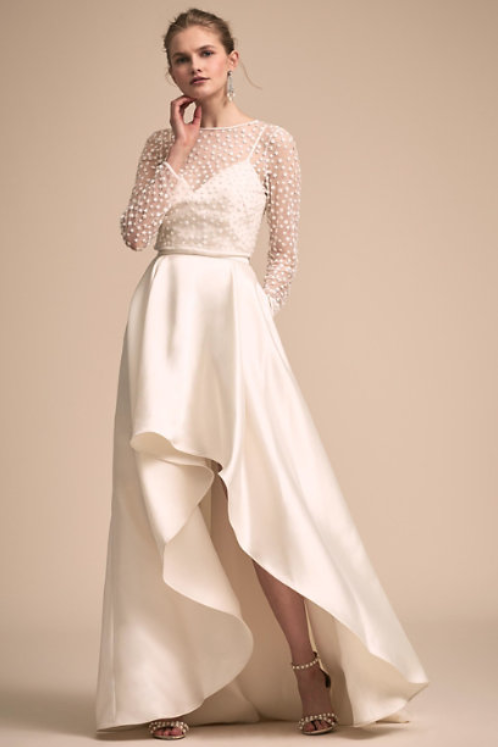 Ever since BHLDN was launched, many fans of the mother company Anthropologie has made it their mission to get a BHLDN experience at their very beautifully decorated boutiques as brides-to-be. They specialize in exclusive wedding dress designers that complement the entire Anthropologie aesthetic very well, so these are dresses you will find hard to get your hands on elsewhere. For those of us who aren't fortunate enough to be living in the States, we can be content with shopping their range off their website. The trend now for the modern bride is to put together a few curated piece that make up your wedding ensemble. We thought this combination of the Amal Topper and Zelda Skirt looks very well put together and elegant. The flowers embroidery on organza lace is delicate yet fun, perfect for spring. The best thing is that you can even wear these piece on their own for future events.
COST FACTOR: $$$
WHIMSICAL ROMANTICISM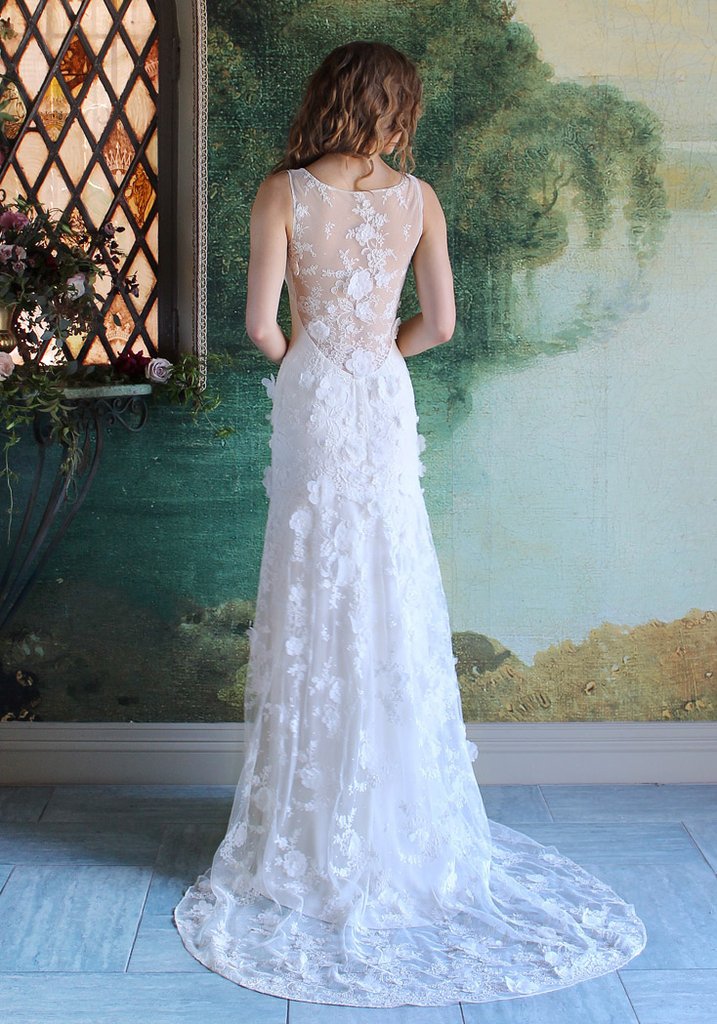 If you haven't heard of CLAIRE PETTIBONE, it's a name you need to familiarize yourself with now, especially when it comes to wedding dresses. Every piece she designs looks impeccably put together. She specializes in very delicate, whimsical dresses that would make you look as if you were a garden nymph about to marry a woodland prince. Think fairytales like Thumbelina or even something out of the pages of a Enid Blyton book. Because of the workmanship that goes behind every gown, it's not a shocker that the pricetag that comes with her made-to-measure range may go up to five-figures. But they are lovely enough to release some gowns in their sample sale that are still in very good condition, like the Magnolia Gown. We love a gown with a beautifully embellished back because we like to think that your wedding guests will be seeing your back a lot of the time at the ceremony as well as your front. Be sure to make use of our US warehouse address so you can save money even further!
COST FACTOR: $$$
We hoped we helped make wedding planning a little less stressful and that you find something worthy of your dreams from these shops.
Tune in on Thursday as we continue in the vein of dream weddings as we tackle DIY décor!