While Pi Day (3.14) is an annual celebration of the mathematical constant, the day can be observed in many ways including eating pies.
We at BuyandShip are celebrating the occasion too, by saving your hard-earned cash instead of spending it on international shipping!
Today, we have a list of essentials that will help you bake that perfect pie – all while serving up great deals from the US!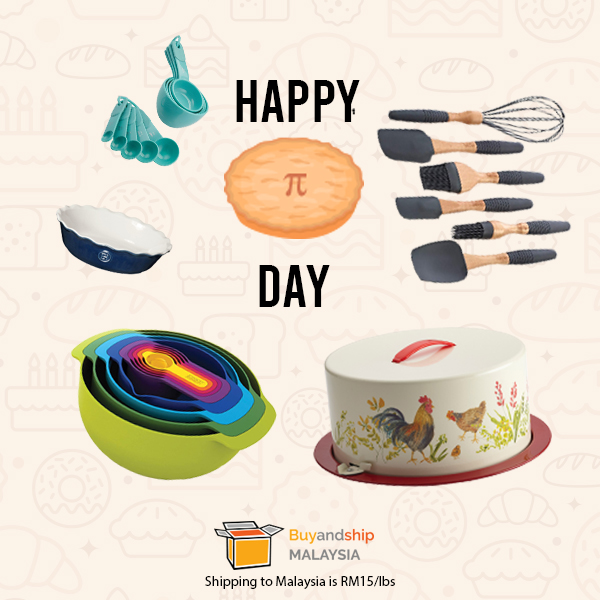 Get these items shipped from overseas to bring it back to Malaysia with our service for a cheaper price. You can now have your π (Pi) and eat it too with BuyandShip.
Emile Henry Ceramic Mini Pie Dish in Twilight
Inspired by vintage French aesthetics, this piece of bakeware by Emile Henry will help your pies achieve a "rustic countryside" look that's perfectly instagrammable. It'll still be warm by the time you're done snapping too – all thanks to its heat-retaining Burgundian clay ceramic.

KitchenAid 9-Piece Measuring Cup and Spoon Set
Baking a pie is a lot like chemistry class; it's all about following the recipe and putting in the right amount of ingredients. From flour and sugar to your milk, this cup-and-spoon set makes measuring easy as pie.

PortoFino 6-Piece Baking Utensil Set
Mix your batter in style with this comprehensive collection of baking utensils by PortoFino. It doesn't matter if you're a home baker, a culinary student or an amateur chef, these tools are ready to whip up delectable treats.

Joseph Joseph 9-Piece Nesting Bowls Set
Baking utensils takes a lot of space to store – there's no running away from it. Unless, of course, you have this Joseph Joseph Nesting Bowls Set. Ideal for those looking to save a lot of storage space, these bowls can be stacked neatly together.

Paula Deen Pantryware Metal Cake and Pie Carrier (Garden Rooster) 
Pies are meant for sharing but getting them across town without eliciting some worry is a challenge. This sturdy, vintage-style Paula Deen dessert carrier takes the cake – well, pie in this case – when it comes to transporting your baked goods. So, grab your dessert and get going!