Families take this golden opportunity to show a unified effort on the fashion front. It's endearing to see each member from the clan dressed in a similar colour palette for Eid Al-Fitr. From bold cheerful colours to killer prints, the Eid Al-Fitr dressing game a whole different ball game. The fanfare isn't just for the adults, even the little ones are on it too.
Take a different approach for your kids this Raya with Ralph Lauren, which is home to a plethora of comfortable and stylish childrenswear and accessories. They're sure to be the centre of attention when you're off visiting family and friends.
Here are the top picks for your kids, to brighten your Eid this year! Deliver your purchases to Buyandship's US warehouse to enjoy affordable international shipping.

---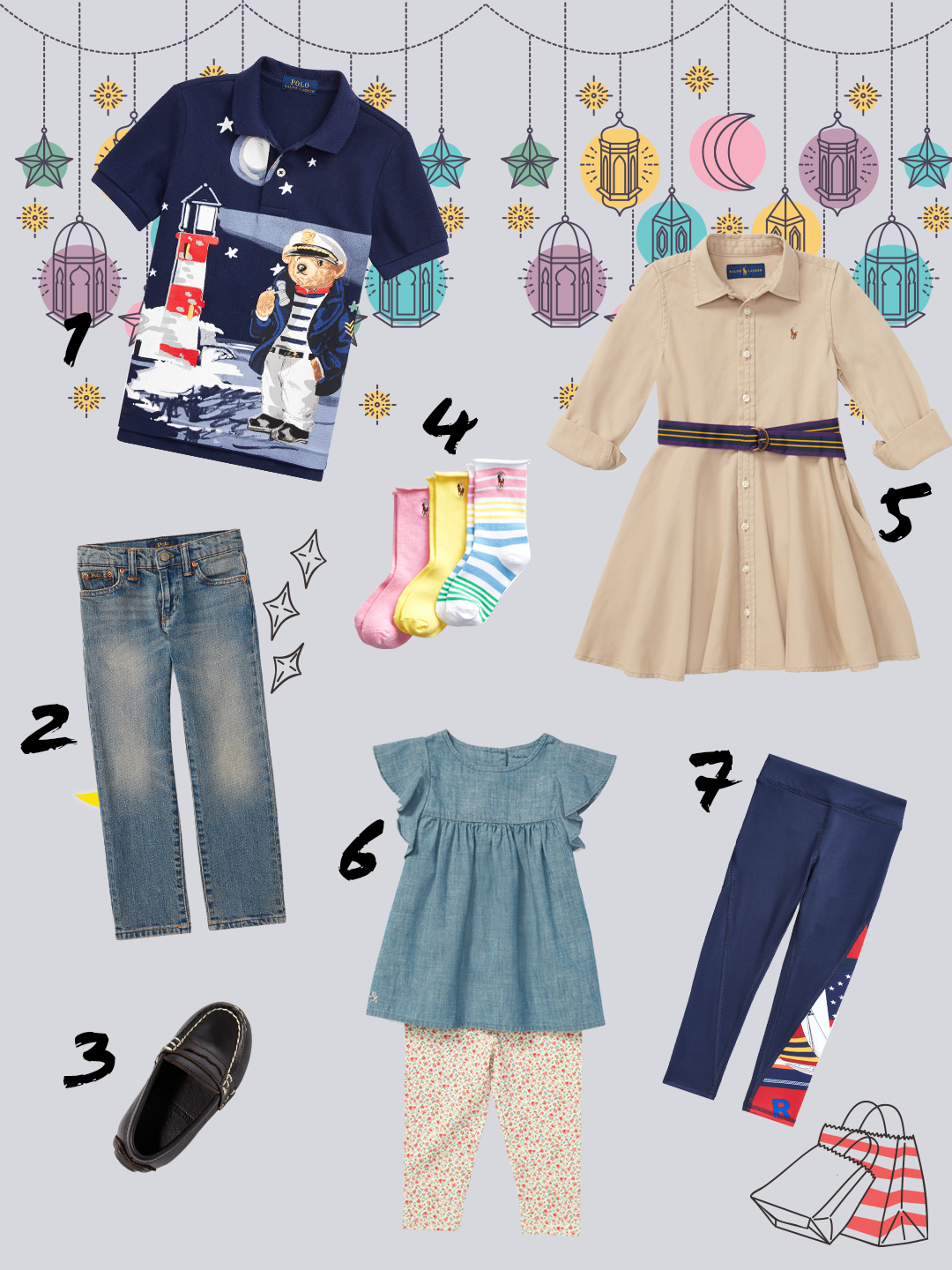 1. Captain Bear Cotton Mesh Polo | USD $59.50
This classic Polo tee by Ralph Lauren features its iconic mascot taking in a starry night by the sea.
2. Hampton Straight Stretch Jean | USD $35
Inspired by its men's Hampton jean, this faded pair combines a classic straight silhouette with a hint of stretch for comfort – great for active tots.
3. Telly Leather Penny Loafer | USD $85
Penny loafers aren't just for adults. These kid-sized pair can be dressed up to wear with a blazer, or for every day wear. Its flexible rubber outsole makes it comfortable for lots of house visits.
4. Striped Roll-Top Sock (3-pack) | USD $15
Wearing socks with your shoes will ensure comfortable all-day wear. Get this set from the brand; it features rolled cuffs and fresh hues that put a playful spin on these essential socks.
5. Belted Cotton Chino Shirtdress | USD $55
With a classic fit-and-flare silhouette and a matching belt, this chino shirtdress is a charming pick for parties and family photos. Its muted colours also let your little one dress it up with accessories however she likes.
6. Sublimation Stretch Legging | USD $45
Pair this sailing-inspired legging with the shirtdress to let them be free of worry. The print brings bold nautical style to these stretch jersey leggings.
7. Chambray Top & Legging Set | USD $34.99
For those who just want a combo that works, this top and legging set is the way to go. A ruffled chambray top and a floral-print jersey legging create this sweet outfit with easy pieces that can be worn on their own.