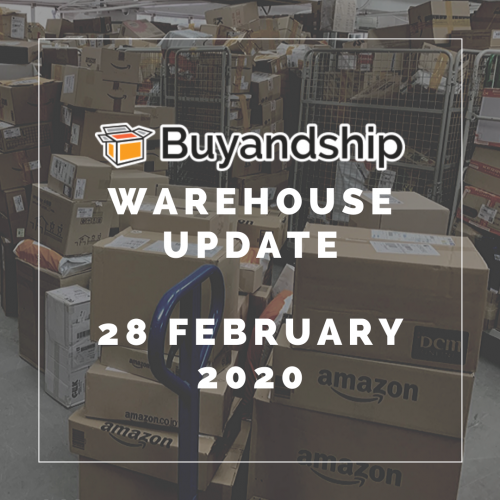 🇯🇵 Japan :
All sea shipment has arrived in Hong Kong. All shipments that were stored and all shipments received after the 14th of February has been sent directly to our warehouse to be processed as normal. 
Processing will take a little longer for the shipments that were stored with Yamato (Black Cat) and with Ketolec as some records of shipments stored were inaccurate. If you have received a delivery status from your seller to say that your shipment was delivered before the 14th of February, please allow us some time to update, due to limited manpower and space, as it will be processed through straight in Hong Kong. With shipments that were stored separately, we are unable to see which shipments were received first. Nonetheless, we are working to process shipments, especially from Katolec and Yamato out as soon as possible. We expect to finish processing the contents of these 19 containers by the 13th of March.
We have not been impacted yet, but please note that there is a decrease in flights (cargo and passengers) going in and out of Japan, of due to the increase of cases of Covid-19 in Japan. As we are receiving about 2000 shipments out of our Japan warehouse, please avoid using the Japan warehouse for the time being so we can process the current load.
🇺🇸 United States: 
As of now, we are aware that the most affected shipments are those that arrived between 4 Feb – 8 Feb. Although about 100 palettes have arrived in Hong Kong this week, there are still about 40 palettes still in either Anchorage or Oakland waiting to leave the US. Even with us trying to pay more, there is no space to allow shipments to move. However, we are pushing through and aim to secure space for shipment to arrive in Hong Kong within the early part of next week. 
Once shipments arrive in Hong Kong, we will process through shipments that arrived prior to 16 Feb, these will be given priority to be processed through. Shipments arriving after 17/2 will only be processed later. We appreciate your patience on this.
🇭🇰 Hong Kong : 
We have hired 30 more part-timers to help us ease the load of cargos received. We hope this will help us speed up the process. 
🇬🇧 United Kingdom : 
There is a big increase in the price of air flight cargo. Due to this, we are not able to ship out today. We will continue shipment again next week, but as of now, it looks like the situation could look to worsen. Please expect delays for shipments from UK warehouse, or avoid using the UK warehouse for urgent shipments.
🇰🇷 Korea:
This week, the Korean government has banned the export of health products like face masks and hand sanitisers. Please do not send these products through our Korean warehouse as we will not be able to ship it out. If you have, we urge you to please cancel your order. These items that are already in our warehouse will only be processed after the ban is lifted. We apologise for the inconvenience. 
🇹🇭 Thailand:
The increased shipment of masks has slowed down our processing time, as our colleagues in the Thai warehouse has been bogged down by separating the restricted items from shipments. However, we are still working on this and if you are affected, we appreciate your patience during this time.
🇦🇺 Australia: 
Flights (Cargo and Passenger) are being reduced so prices are higher than usual. We will push through as much as we can, however, we do advise to avoid using the Australia warehouse for urgent shipments.