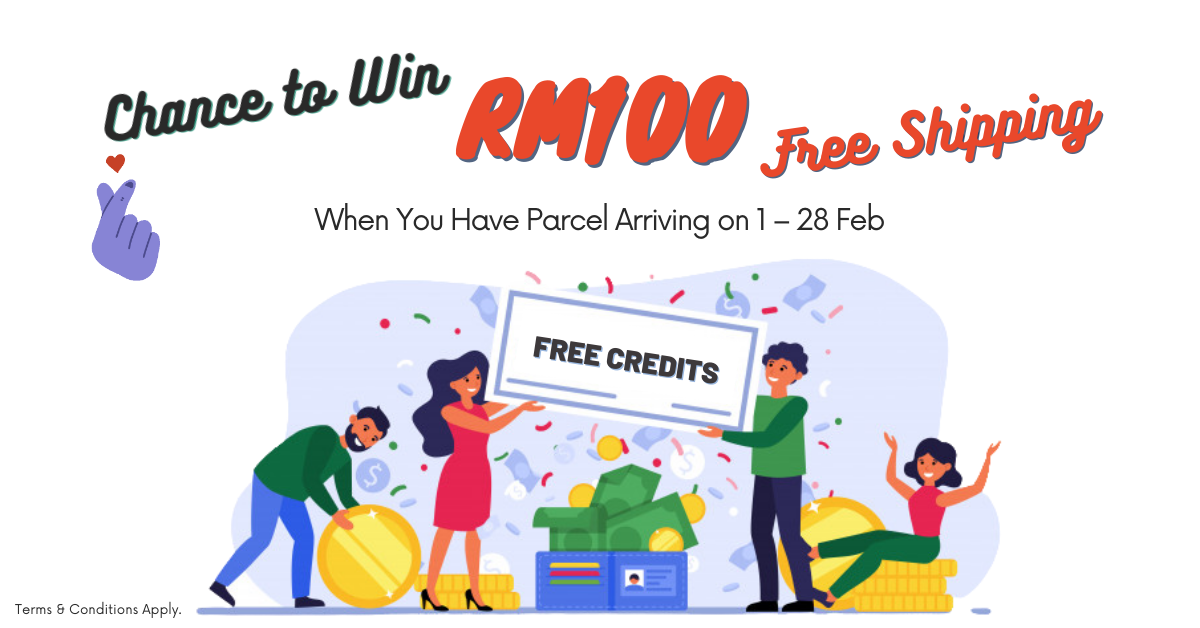 Ship what you love from the USA, UK, Japan, and Korea, etc, and earn a chance to win RM100 free shipping credits! From 1 to 28 February 2021, if you have any parcel arrive at one of our overseas warehouses, you will be eligible to join this lucky draw campaign!
**How the Lucky Draw Will Be Held**
Round 1: For Parcel Arriving on 1 – 7 Feb | Draw Date: 10 Feb (Wed) | 3 Winners, Each Win RM100
Winners: MYSTLHXX / MYMNYPXX / MYERXEXX
Round 2: For Parcel Arriving on 8 – 14 Feb | Draw Date: 17 Feb (Wed) | 3 Winners, Each Win RM100
Winners: MYYGWKXX / MYNGPSXX / MYMWFYXX
Round 3: For Parcel Arriving on 15 – 21 Feb | Draw Date: 24 Feb (Wed) | 3 Winners, Each Win RM100
Winners: MYLJJMXX / MYTZREXX / MYPJAKXX
Round 4: For Parcel Arriving on 22 – 28 Feb | Draw Date: 3 Mar (Wed) | 3 Winners, Each Win RM100
Winners: MYJGHSXX / MYJAPHXX / MYLXTJXX
You don't have to submit anything to us. Three tracking numbers (which the parcels have already arrived at one of our warehouses) of the round will be picked from our system on the draw date and the shipping credits will be automatically added to 3 corresponding lucky customers' Buyandship account.
The lucky draw result will be announced in this blog post and on our Facebook/Instagram on the same date, please note that only the first 6-digit of the user ID will be displayed for safety and privacy reasons.
To allow more users to benefit from this campaign, please understand that every user ID can only win once❤️. But the good news is the more parcels you ship, the more chances you have at winning – you can join all rounds as long as you have parcel arriving in the corresponding periods. So if you didn't win round 1, you still have 3 chances left!
1. The campaign starts on 1 February 2021 and ends on 28 February 2021.
2. The arrival time of the parcel is subject to the system record.
3. User ID on the parcel's receiver field has to be the same as your user ID.
4. A user ID can only win once during the entire campaign period.
5. Tracking number will be re-drawn if there is any duplication of the corresponding user ID.
6. This campaign is only open to Buyandship Malaysia members.
7. Three winners will be announced on the same day via our website, official Facebook page, and Instagram account.
8. Credits will be added to the winners' Buyandship account within 7 working days upon announcement of the winners.
9. The credits earned through this campaign will be valid for 30 days.
10. All credits cannot be transferred to other member accounts and cannot be exchanged for cash.
11. By participating in this campaign, you understand and are willing to abide by the terms and conditions.
12. In case of any dispute, Buyandship will reserve the final decision.