In celebration of the 100th anniversary of Chanel N°5 perfume, Chanel has recently created a limited edition collection called the "FACTORY 5 COLLECTION". This collection is centred around the classic Chanel N°5 scent, with the products range from body lotion, sparkling shower gel, body cream, and of course, the signature Chanel N°5 Perfume. The minimalist packaging does not only present the Chanel's signature colour, but also the creativity side of its runway shows—the shower gel packed like a paint bucket or the body oil packed like a motor oil.
Chanel has started to launch this body care series through pop-ups in some countries. Since this collection will only start selling on 30th July in Malaysia, many Chanel enthusiasts have started to purchase these products. With stocks sold out in most places, we are going to (secretly) tell you that Saks Fifth Avenue still have stocks! All you have to do is change the location to US, purchase your favourite products and ship them to our US warehouse.
For your reference, we are going to show you some of the 'Factory 5 Collection' for you to choose!
Warm Reminder: Please keep in mind that perfume is a prohibited item. 
---
N°5 The Shower Gel
This signature shower gel comes in 5 squeezable gouache tubes and packed in a sleek cardboard box.
Price:
RM 230.42 (US$ 55)
Buy Here: 
https://bns.is/3xFDWj0
---
N°5 The Sparkling Body Gel
This creamy and foamy shower gel comes in a refillable spray-paint-bottle inspired. This shower gel contains delicate flecks of golden sparkle that leave your skin glowing and soft.
Price:
RM 356.11 (US$ 85)
Buy Here: 
https://bns.is/3i5S3XZ
---
N°5 The Body Cream
With a rich texture and floral scent, leaving your skin moisturise up to 8 hours. This body cream is packed in an oversized paint tube.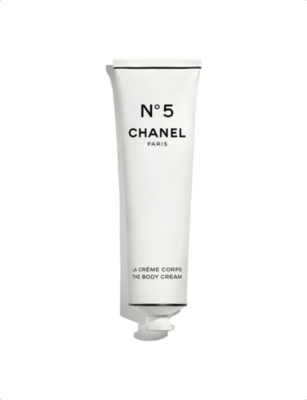 Price:
RM 314.21 (US$ 75)
Buy Here: 
https://bns.is/3xwFYSl
---
N°5 The Soap
This soap has a creamy but light texture. Contrasting to the floral bouquet inspired scent, it comes in a metal shoe polish tin.
Price:
RM 188.53 (US$ 45)
Buy Here: 
https://bns.is/3ATTrWl
---
N°5 The Body Lotion
Packed in a stand-up pouch, this body lotion will not only leave your skin moisturise for hours, but also smells amazing throughout the day.
Price:
RM 230.42 (US$ 55)
Buy Here: 
https://bns.is/3i1F49N
---
So what are you waiting for, get the N°5 signature scented products before it's too late!