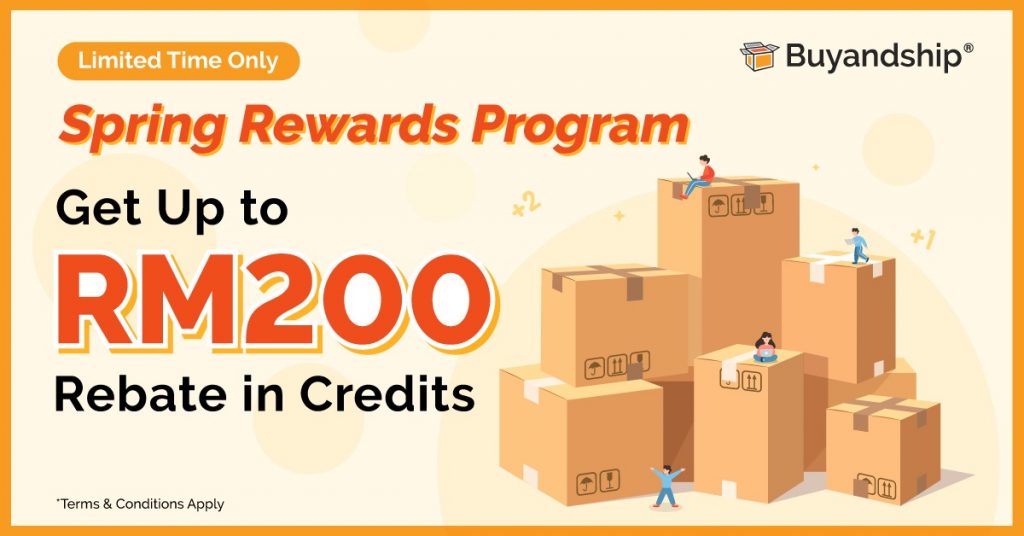 Hi Buyandship Members!
We are launching a Loyalty Program from 1 April 2022 to 31 May 2022 with tier based giveaways!
The program is split into 2 phases – the 1st phase starts today and lasts till 30 April 2022, while the 2nd phase will start on 1 May 2022 and run till 31 May 2022. The more you ship in a phase, the more thank you shipping credits you will get for being our loyal customers, and this means you can get up to RM200 during the entire promo period!
Buyandship Malaysia Spring Loyalty Program 2022 – Rewards at a Glance
| | | |
| --- | --- | --- |
| Tier | Total Chargeable Weight of ALL Order(s) Completed in a Phase | Rebate Amount |
| 1 | 5-10lbs | RM10 |
| 2 | 11-20lbs | RM20 |
| 3 | 21-50lbs | RM40 |
| 4 | 51-100lbs | RM60 |
| 5 | 100lbs+ | RM100 |
Reminder: What's Total Chargeable Weight?
Let's assume you have 3 shipments and each shipment's weight is 2.2lbs. When you choose to consolidate all shipments into 1 order, the actual weight of the order is 2.2lbs x 3 = 6.6lbs and the total chargeable weight of the order will be rounded up as 7lbs.
Please note that each user will only be eligible to get credits once in a phase, meaning that if you've 50lbs shipped in Phase 1, the credits you can get will be RM40, also your Total Chargeable Weight of orders shipped in the Phase 1 will not be carried forward to the Phase 2.
---
Thanks again to all existing members which made this promo possible, looking forward to your purchases during the promo period. For new members, know that it is not that difficult to hit those numbers as we have experienced this is easily done! Please continue to do ALL your Shopping with Buyandship From the Comfort of Your Own Home!
---
Terms & Conditions
1. This campaign is open to all Buyandship Malaysia members who has successfully signup.
2. The campaign starts on 1 April 2022 and ends on 31 May 2022 11:59 PM and is split into 2 phases.
3. Users can participate in both phases, yet each user will only be eligible to get credits once in a phase. Total chargeable weight of orders shipped in the Phase 1 will not be carried forward to the Phase 2.
4. The pricing scheme (DDU/DDP) you selected won't affect the tiers and rebate amount.
5. The completion date and time of shipment orders will be based on the system record.
6. Credits will be added to users' account in early May 2022 (those qualify in Phase 1) and early June 2022 (those qualify in Phase 2).
7. Credits earned through this campaign have a 30-day lifespan.
8. The credits can be used to pay shipping fee (each credit is equivalent to RM1).
9. All credits cannot be transferred to other member accounts and cannot be exchanged for cash.
10. By participating in this campaign, the customer states that he/she understands and is willing to abide by the terms and conditions of the campaign.
11. Buyandship reserves the right to limit entry, amend rules or cancel, terminate, modify or suspend the campaign if considered necessary without prior notice.
12. In case of any dispute, Buyandship will reserve the final decision.