Paying for multiple international shipping fees for multiple shipments is a pain point for online shoppers. It can quickly stack up and end up very costly in the long run. Some overseas retailers offer affordable international shipping fees, and some may even offer free worldwide shipping with a minimum order. But what happens when you have neither of these options?
With Buyandship, this is something you don't need to worry about. Send your overseas purchases to the nearest Buyandship overseas warehouse (we have 13 of them), and they will be automatically forwarded to our Hong Kong warehouse before you can arrange for shipping to Malaysia.
You will receive an email from Buyandship upon your shipment's arrive in our Hong Kong warehouse. From there, you can choose whether to send your parcels individually or consolidate them into one shipment!
Why Should I Consolidate?
One of the advantages of consolidating your parcels is being able to MINIMIZE your shipping fees with Buyandship. Let's say you have THREE shipments stored in our Hong Kong warehouse, weighing 1.2 lbs, 1.3 lbs and 2.5 lbs, respectively.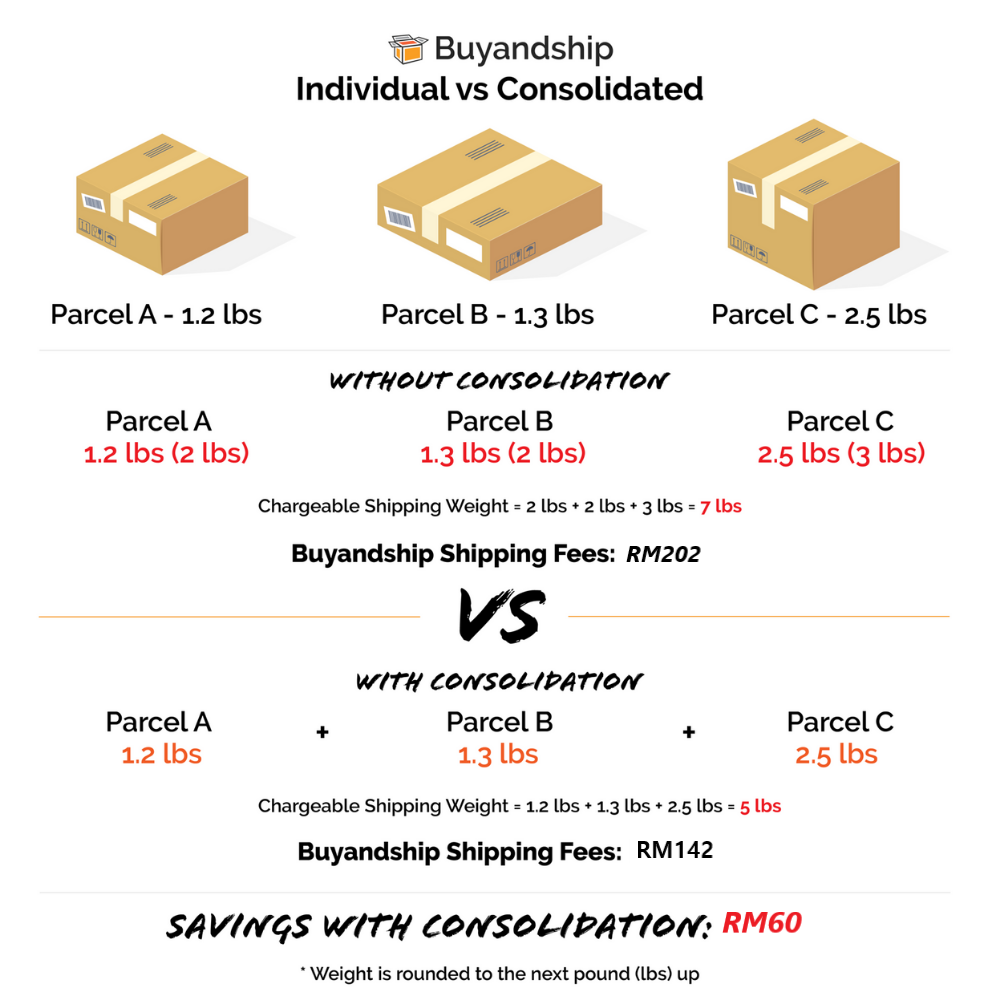 *Above calculation assumes shipping via Skynet (DDP). Price varies for shipping via UPS (DDU) and Skynet (DDP).
Generally, the delivery fee will be calculated based on your consolidated shipment, but do bear in mind that Buyandship will round to next whole pound for the chargeable weight. If you were to arrange for individual shipping, you'd be paying RM202 (7 lbs)!
By consolidating, instead of paying for the weight for three individual shipments, get better savings when you combine them into one to pay only for 5 lbs — you'll be saving RM60! What's more is that packages can be stored in our Hong Kong warehouse for 21 days, giving you ample time to consolidate your purchases.
So, how do I consolidate my shipments on Buyandship?
You will receive an email from Buyandship once your shipment arrives at our central warehouse in Hong Kong. Follow the link in the email, or sign in to your Buyandship account to access the Member Center.
To check what's available for shipping to Malaysia, go to "Shipments" and select "Arrived at HK warehouse" — details of your packages and its weight will be displayed there. Select which parcels you'd like to checkout from our Hong Kong warehouse, select the delivery address, make payment and you're good to go!