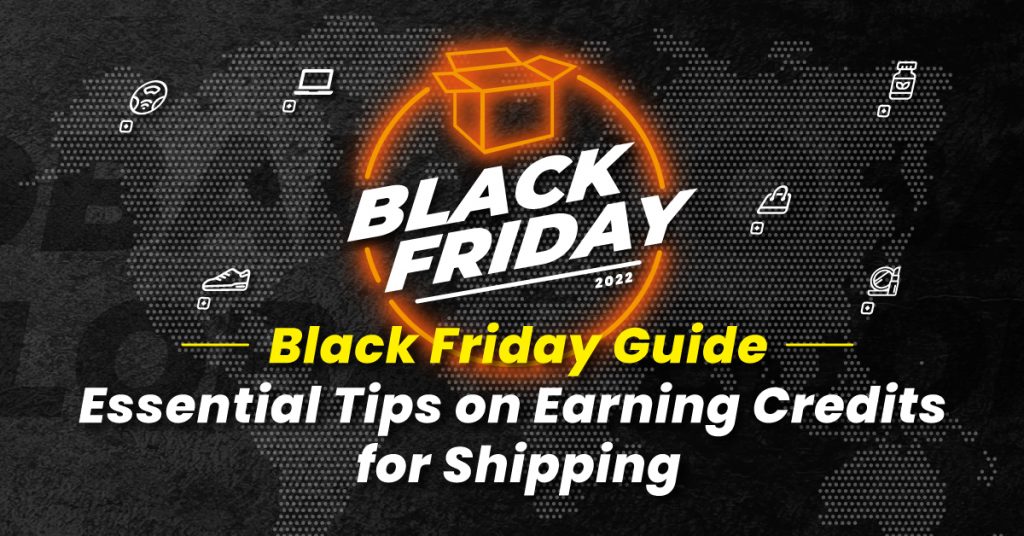 Our editor has compiled the most practical ways for you to save shipping costs for overseas online shopping, so that you can enjoy shopping at online shops internationally without the burden of shipping costs!
How to save on Black Friday overseas shipping?
The top concern about overseas online shopping must be the problem of international shipping. If you want to get your Black Friday shoppings in the quickest and most affordable way, you can use the Buyandship international forwarding service, and you can also send goods from different countries altogether at the same time, delivered quickly and easily!
But let us tell you one tip – if you want to save on shipping costs, there are ways of earning Buyandship credits! Every 1 credit can be used for RM1 of shipping fees. At present, Buyandship offers multiple ways for you to earn credits. You can start earning points early to prepare for the Black Friday sale!
How to Earn Buyandship Credits?
Currently Buyandship has 3 ways to earn credits:
【Method 1】Friend Referral
If your friend registered through your referral link and completed his/her first transaction, both you and your friend will receive 10 credits after 7-14 days.
Log in to the Member Center
Go to「Referral」page, share your "Friend Referral Number" or "Referral link" to a friend for account registration.
If they're using "Friend Referral Number", please make sure to enter the "Friend Referral Number" during the registration process!
【Method 2】Facebook Group:Unboxing for Rewards
Join Buyandship's Facebook Group「Buyandship Facebook Community」plus exclusive credits rewards events, earn 15 credits every month which can be used to offset the shipping cost of your next online purchase!
Share your review on your online shopping experience. As long as the post meets 5 requirements: introduce the product name, link, price and price difference, and don't forget to attach your unboxing photo and order number!
【Method 3】Top Up Your Credits
By purchasing reward credits, you can get additional credits rebate. The higher the stored value, the more credits will be rebated to you. For frequent Buyandship users, stored value credits are the best way to save money.
Tips on Parcel Forwarding
【Step 1】Shop Online on Overseas Website and Fill in Warehouse Address
Buyandship has a total of 13 warehouses around the world. Visit and shop on your favourite overseas websites, and fill in the Buyandship overseas warehouse address in the order information column for delivery information when placing an order.
The first and last name must be filled in with your unique Buyandship member ID (e.g. MYXXXXXX). If the name cannot be filled in the member ID, it can be filled in the address bar. Parcel without member ID will not being recorded at our warehouse and system! So please make sure you have filled that in!
For existing Buyandship users, regardless of whether you've filled in our warehouse address previously for your shopping, you are advised to double check the receiving address and zip code before checkout to ensure you have filled in the latest Warehouse address listed on our "Warehouses" page.
Keep in mind the items under the "Prohibited Items Catalog" before shopping.
【Step 2】Declare Your Shipments
After receiving the delivery email from the store, please go to the Buyandship website to log in to your member center and declare the shipment. Information like tracking number and the value of your shipments is needed.
Due to the expected volume increase in warehouse during Black Friday, we might not be able to process parcels on the day of receipt. Staff at warehouse will arrange processing 2-3 days after the shipment arrives at the warehouse. Please be noted that Buyandship will prioritize shipments which have declared on time.
If the shipment is not declared before arriving at the warehouse, the non-declaration notice will be sent to you within 2-3 days after the warehouse receives the shipment. Shipment will only be processed after receiving your declaration.
As soon as you have received a tracking number, remember to declare it immediately to prevent delay! It is expected that the delivery time and air delivery will be affected during Black Friday. Generally, it takes 3 working days for the delivery of goods to be arranged for delivery (for US and Japan warehouses). In addition, the large increase in cargo volume and the pandemic have reduced or delayed most flights. In the case of waiting, it may take an additional 2-7 days for the shipment to reach to Hong Kong warehouse.
Tips: Declare the shipment in advance to make the whole process faster!
💡 How To Save On Shipping By Consolidating Shipments?
【Step 3】Shipment Arrives At Our Overseas Warehouse
When the shipment arrives at the overseas warehouse, our staff will sign for the shipment and put it into storage. You don't need to do anything at this point, just wait patiently for the shipment to be sent to the Hong Kong warehouse.
【Step 4】Shipment Arrives At Our Hong Kong Warehouse
Once the shipment arrives at the Hong Kong warehouse, it will be ready for consolidation and calculation of delivery fee.
You will receive an email notification when your parcel arrives at the Hong Kong warehouse. Then, you can create a shipment order by consolidating your parcels at "My Shipment".
There are 2 pricing options for you to choose from: Delivered Duty Unpaid (DDU) and Delivered Duty Paid (DDP).
Please add/confirm your delivery address and the pricing option you wish to have at "My Addresses".
After your payment is settled by online credit card, your shipment will be sent out from our Hong Kong warehouse within 1-2 working days.
📍 Compare Pricing Options: Difference Between DDU and DDP
📍 Buyandship's Shipping Calculation
【Step 5】Wait for Your Shipment
Home Delivery to your address takes around 3-14 days. Due to the current pandemic situation worldwide and Black Friday being the peak shopping season, please allow more delays as it is unpredictable during these times.
See more on Black Friday Deals
[Recommend] 🔗 The Ultimate Guide to Black Friday Sale 2022
---