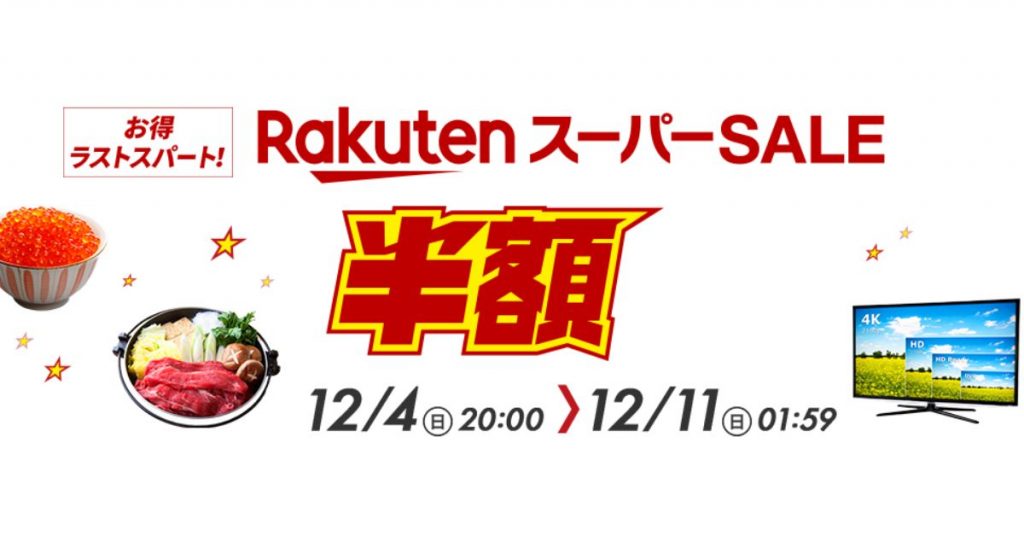 Did you know the limited-time Super Sale is already happening on Rakuten Japan? You can now save big with massive discounts across all categories, including fashion, electronic gadgets, beauty, lifestyle and much more! The Super Sale will be held from now until 1:59 a.m. on 11th December.
Shop products of up to half price or even less and save extra with coupons! You can also earn 10x Rakuten points! Don't know where to start or how it works? Our editor has summarized key tips and ways you need to know about before you buy to help you get your favourites with the best prices on Rakuten!

---
Contents:
Ways to Snap Up Half Price Products
Tip 1:
There's a 1-Hour Flash Sale filled with different half-price products available for grabs on every hour each day – you can take a sneak peek of the items that will be on sale in the upcoming hours so that you can prepare in advance! If you've spotted a product you want, it's recommended to make a note of the sale time and come back to the page and add it into cart when it's available.
💡Please be noted that the time displayed on the webpage is in Japan time.
Tip 2:
If you have no idea what to buy, you can browse half-price items randomly by searching "50%OFF" on the search bar on the page, where products with half-price discounts will be shown. With over 374,000 half-price products up for grabs across different categories – you'll definitely find something you like!
Tip 3:
If you're looking for a product from a specified brand, you can enter the name of the product on the search engine, and then click "スーパーSALE Half Price" in the left column, and the page will display products with half price discount.
💡We recommend that you check the items you want in advance and add them to your "Favorites" so that you don't miss out on the Super Sale. Visit Rakuten Japan now to snap up half-price products!
---
Shortcut to Various Discount Sections
You can browse Rakuten's selected discount sections on the homepage as shown in the red box. Click on the discount you are interested in to visit specific sale section, including designated coupon area of particular brands, JPY1000 product, popular bestsellers sale section and more!
⚠️Please be noted that some products may include prohibited and restricted items such as chilled and refrigerated foods. For home appliances and electronic products, please check whether the product voltage is suitable for use in Malaysia.
---
Ways to Earn 10x Points on Rakuten
Rakuten members will get point rebates after online shopping, each point is equal to JPY1, which can be used as shopping credit online. During the Super Sale event, you get a corresponding percentage of Rakuten points rebate when you spend over JPY1000 in a single transaction at each store!
1 Store >> 1%
2 Stores >> 2%
3 Stores >> 3%
10 Stores >> 10%
*Note:Member can get up to 7,000 points rebate during the event.
Here's how it works. If you've spent JPY2,000 in the first store on Rakuten, you can get 20 points. If you've spent JPY2,000 in the second store, you get 40 points; and you get 60 points when you've spent JPY2,000 in the third store and so on.
⚠️Remember to go on the Super Sale page and click the button in the red box below to participate and earn points before you start shopping!
---