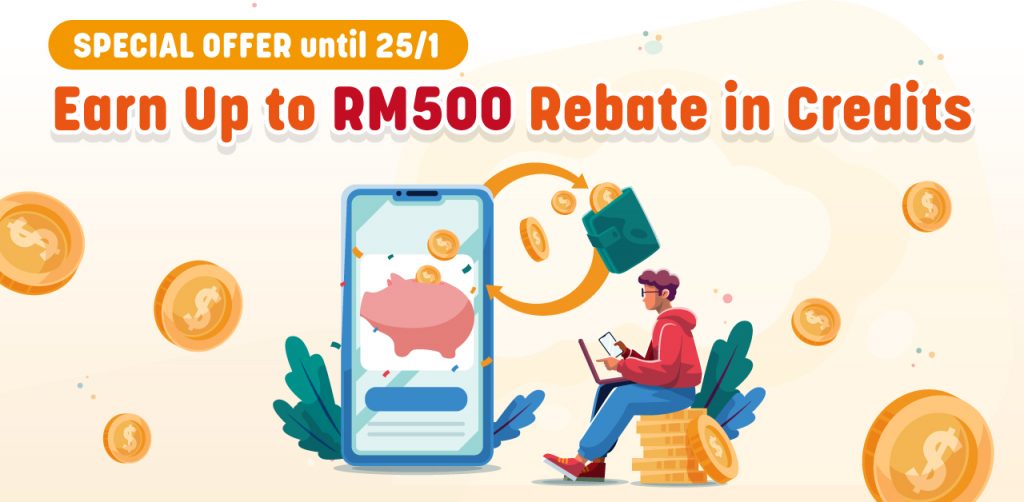 PURCHASE CREDITS TODAY AND EARN UP TO 10% REWARDS!
Promotion Period : From 11th January 2023 to 25th January 2023 at 11:59 P.M.
Wondering how you can save on shipping when using Buyandship? We have a smart tip for you. Ship smart today and consider pre-purchasing credits for extra credits rebate!
To show our gratitude for your support, we are giving away a limited-time offer to maximise your savings on shipping with us! From now until 25th January 2023, you can get credits rebate when you top-up up to minimum amounts within the promotion period. When you top-up RM500, you will get 5% credits rebate. What's even better is, if you top-up RM5000, you will get 10% credits rebate!
There're only 2 rebate tiers eligible for this offer, in other words, you have to top-up either RM500 or RM5000 within the promotional period in order to earn the corresponding credits rebate. You will save a lot on shipping when you shop overseas!
How Many Extra Credits Can You Earn with the Special Offer?
Deposit
Rewards Proportion
during Promotion
Credit Rewards
Total Credit Rewards
during Promotion
RM500
5%
25
RM525
RM5000
10%
500
RM5500
As we all stepped into the year of 2023, there'll be almost 20 online shopping events happening this year with lots of great deals from big brands overseas. Purchase credits in advance to prepare for big purchases and earn up to a whooping 10% rebate discount to save on shipping! Don't miss out on this limited-time offer!
Purchase Rewards Credits
Please contact our online customer service representatives for making a purchase. We will provide a payment link for your request of credit purchases.


Any credits purchased with rebate credits will be added to your account after confirmation of the deposit, which usually requires 1-2 working days.


We accept payments through credit cards only.

---
Terms and Conditions:
.The Promotion Period will be from 11 January 2023 to 25 January 2023 at 11:59 PM
.Members have to top-up within the Promotion Period to be eligible for the rewards. Any top-up after the promotion period will not be entitled to any extra credits.
.The credits purchased and rewarded are valid within 1 year.
.Each member is allowed to enjoy the offer once only during the Promotional Period.
.You have to top-up either RM500 or RM5000 in order to benefit from the offer.
.Credits rewarded will be deposited to your account within 1-2 working days after your payment is confirmed.
.Only reward credits purchased or earned before the creation of an order can be used as a deduction of the shipping fee of that order;
.Credits can be used to pay the delivery fees. (1 credit is equivalent to RM1)
.All the credits cannot be transferred to other members and cannot be redeemed for cash.
.Please refer to the T&C of the offer carefully. The services are subject to amendment without notice.
.Buyandship reserve the right to vary these terms and conditions at any time, but in respect of any credits purchased, the terms and conditions which apply shall be those which you accepted when topping up your credits.