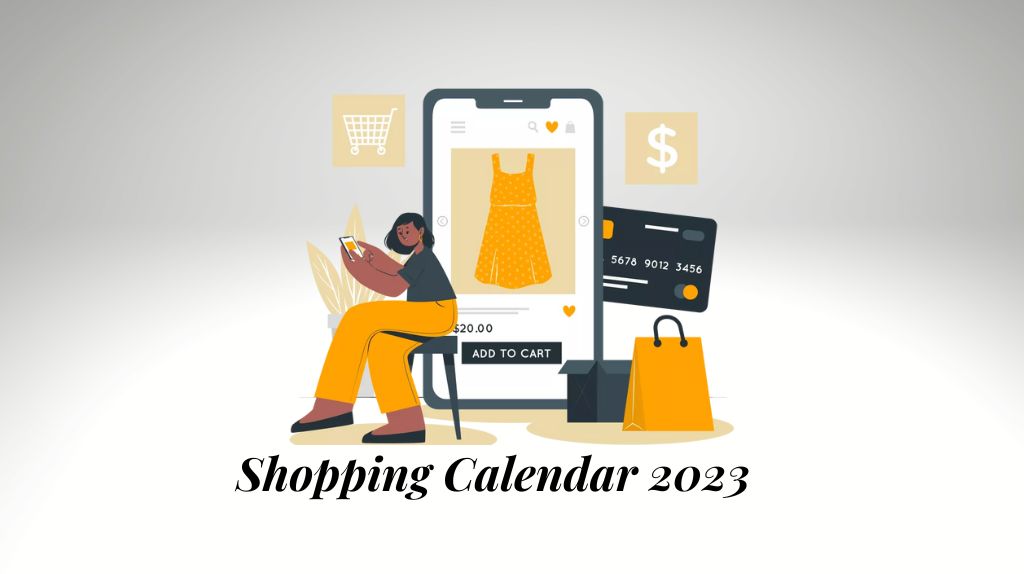 Calling all avid online shoppers! Wondering what are some of the best shopping sites to shop every month for major markdowns? Apart from big sales events like Black Friday and Amazon Prime Day, there're over 20 online shopping events throughout the year that you can take advantage of and shop special deals at your favourite brands online!
With President's Day happening soon on 20th February, great deals will roll out from online retailers including Amazon, Walmart and Sephora in the US – be prepared for the first major holiday sales of the year! Be sure to bookmark this shopping calendar that fills with big savings events, so you know when are the best days to shop in 2023 and where to get the best deals from abroad! Happy shopping!
👇 Jump Straight to Month:
► January
► February
► March
► April
► May
► June
► July
► August
► September
► October
► November
► December

Key Dates: Major Sales Events to Shop Each Month in 2023
Online Discounts in January
1st Jan:New Year Day
Winter Clearance / New Year Sale
22th Jan:Lunar New Year
Some of the big brands would offer discounts to celebrate Chinese New Year!
Online Discounts in February
14th Feb:Valentine's Day
Popular jewellry and watch brands will launch limited-time Valentine's Day offers. Some jewellery brands may offer discounts after Valentine's Day!
Premium chocolate brands like Godiva US/UK and Venchi Italy will likely to have discounts on chocolate too!
20th Feb:Presidents' Day
Get ready for a 3-day weekend for huge discounts on home items and electronic gadgets! You may find record-low prices on selected tech deals on Amazon, from TVs, laptops, tablets, headphones, and more.
Online Discounts in March
8th Mar:International Women's Day
Many of the sales and deals are valid on some female-owned brands, with discounts up to 50% off retail prices. Be sure to check out sales on women-owned inclusive brands from retailers like Nordstrom, Macy's!
17th Mar:St. Patrick's Day
A festival to celebrate Irish culture and showing Irish pride. Expect to find seasonal markdowns and spring sales in the US, UK and Canada on major online retailers including Amazon and Nordstrom!
23th Mar : National Puppy Day
Get great deals on pet products from sites including Amazon, Target and Walmart!
Online Discounts in April
9th Apr:Easter
Save big on baby and kidswear as lots of baby clothing brands will have Easter deals!
Online Discounts in May
29th Apr – 5th May : Golden Week in Japan
One of the most festive times of the year in Japan! You'll see massive sales at Japanese retailers online including Amazon JP, Rakuten and more!
14th May:Mother's Day
Be ready for Mother's Day promotions on womenswear and heath supplement brands.
29th May:Memorial Day
Many US online stores such as Amazon, eBay or Wayfair will launch limited-time offers. Sephora has also slashed prices for Memorial Day in previous years!
Online Discounts in June
18th Jun:Father's Day
Most electronic/tech products and clothing brands will offer Father's Day discounts.
End Of Financial Year Sale (EOFY Sale)
The EOFY Sale is a sale event that marks the end of a fiscal year, when thousands of Australian and international retailers and brands are slashing prices in big way, similar to Black Friday!
Online Discounts in July
4th Jul:Independence Day
Shop big discounts during Independence Day sale across gadgets, clothing and more!
Amazon Prime Day
One of the biggest online shopping events of 2023! Exclusively for Prime members, shop deals on top brands on Amazon US, UK, AU and more!
💡 For fashion lovers, be ready for Nordstrom's Anniversary Sale which is their biggest fashion event of the year! Shop deals from brands including Madewell and Malin+Goetz!
Online Discounts in August
Mid Aug – Sep:Back to School Sale
It's the best time to shop deals on stationery supplies, backpacks, clothing, shoes and electronic gadgets!
Shop end-of-season clearance from different brands starting from the end of June to August!
Online Discounts in September
4th Sep:Labor Day
Just like Black Friday and Memorial Day, it's one of the biggest shopping events of the year! With amazing deals typically on home goods, clothing and appliances.
Online Discounts in October
9th Oct:Columbus Day
Another opportunity to shop great deals as many US online stores will offer holiday discounts! Shop sales from home goods, latest tech gadgets to fashion and beauty items.
31st Oct:Halloween
Get great discounts online on Halloween costumes, decorations, party supplies and crafts.
Amazon Prime Early Access Sale
It's a new sales event held in 2022 on Amazon that is similar to Prime Day, exclusive to Prime members with hundreds of thousands of deals across all top categories. However, it's not yet confirmed whether the sale will be going on this year in 2023.
Online Discounts in November
11th Nov:Singles' Day 11.11
Double 11 is another major shopping event that lasts for around 10 days with several discount periods.
23rd, 24th : Thanksgiving Day, Black Friday
Here's the biggest shopping event in the US with discounts as low as 90% off! Traditionally, Black Friday is the day after Thanksgiving when people start their holiday shopping early – but it's expanded into almost a monthlong event.
27th Nov : Cyber Monday
Cyber Monday will offer online deals and likely replay many of the Black Friday deals from Nov. 24. This day is also known for tech gadgets deals!
Online Discounts in December
25th Dec:Christmas Day
The biggest holiday shopping season of 2023! So many of our favourite stores including Amazon and big brands will kick off their Christmas Sales, with prices rival what we saw on Black Friday and Cyber Monday.
End-of-Year Sales
Brands from overseas will offer end-of-year sales!
Japanese Lucky Bags
Major Japanese online stores will also launch New Year Lucky Bags starting from mid-December, where you can pre-order those mystery lucky bags from brands that worth much more than the price you've paid for!
💡 What Is Fukubukuro? Find Out How to Shop Japanese Lucky Bags with Must-buys Recommendations!