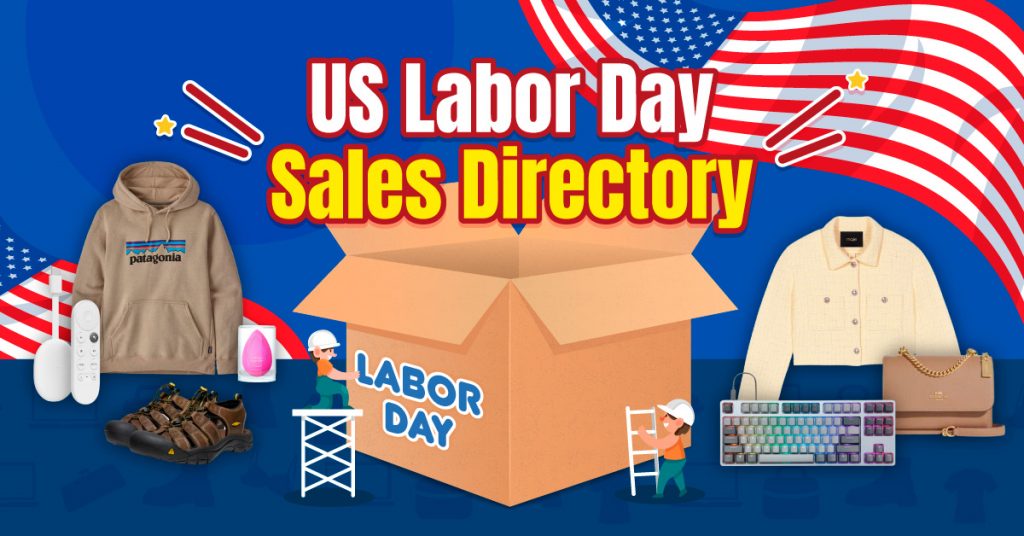 Labor Day in the US is a public holiday happening on the first Monday in September, and it happens on 4th September this year! It is not just a day dedicated to honoring the contributions and achievements of American workers, but also the best time to score great deals on fashion, tech gadgets, home decor, kitchen appliances and more from the US!
Don't forget to bookmark this as we've compiled the best deals which you can already shop right away, with complete promo codes for you! Shop your favourites from overseas and ship to Malaysia hassle-free with the help of Buyandship's parcel forwarding service now!
💡 Shopping Tips : Ships your order to either Buyandship's Portland (tax-free) warehouse, or use Los Angeles warehouse address which is accepted by more shopping websites – but with a small tax charge!
Table of Contents:
► US Labor Day Deals & Promo Codes to Shop
US Labor Day Deals & Promo Codes – Fashion & Baby

| Brand | Discount | Website |
| --- | --- | --- |
| American Eagle | 25-70% Off Everything | 50% Off All Shirts | Shop Now |
| Calvin Klein | Up to 70% Off Sale | Underwear from US$19.2 | *Require USA VPN | Shop Now |
| Champion | Up to 40% Off Sitewide | Shop Now |
| Crocs | Up to 60% Off Labor Day Sale | Free Domestic Shipping with Order of US$49.99 | Shop Now |
| GOAT | Take Up to 70% Off Selected Clothing & Accessories Including Marni, Maison Margiela, BAPE | Shop Now |
| J Crew Factory | Up to 50% Off Sitewide | Bestsellers from US$14.50 | Shop Now |
| Jomashop | Up to 75% Off Watches & Accessories from GUCCI, Ray-ban, Burberry & More | Shop Now |
| Michael Kors | 1000+ Bags on Sale + Extra 25% Off Code: EXTRAEXTRA| *Switch Location to USA on the Top Left Corner | Shop Now |
| MLTD | 20% Off Your Order, Use Code: MLTD20| Sale Up to 60% Off | Shop Now |
| Nautica | 50-70% Off Sitewide|New Styles Added to Clearance, Up to 70% Off | Shop Now |
| Oakley | Sunglasses, Clothing & Shoes Up to 60% Off | Shop Now |
| Levi's | 30% Off Sitewide| Selected Styles Extra 40% Off | Shop Now |
| Ted Baker | Sale Items Extra 20% Off Code: sale20| Up to 60% Off Outlet | Shop Now |
| Timberland | Selected Shoes and T-Shirts Up to 60% Off| New Members Get 20% Off | Shop Now |
| Tommy Hilfiger | 40% Off Sitewide| Sales Up to 70% Off| *Require USA VPN | Shop Now |
| Tory Burch | Sales Up to 70% Off and New Styles Added | Shop Now |
| Victoria's Secret | 25% Off Sitewide | Shop Now |
| Kipling | Extra 25% Off School Styles, Code: FIRSTDAY| 30% Off Best-Selling Bags, Code: SOGOOD | Shop Now |
| ricracandruffles | Up to 70% Off | Shop Now |
| Carter's | 50% Off Everything | Shop Now |
| Coach Outlet | 1000+ Bags on Sale and Extra 20% Off | Shop Now |
| Hollister | Selected Styles Up to 40% Off | Shop Now |
| LUISAVIAROMA | 20% Off Selected Full-Priced Items, Code: LVR20 | Shop Now |
| Maje | Sales Up to 60% Off| Selected Items Extra 20% Off | Shop Now |
| Palladium | Selected Styles 20% Off | Shop Now |
US Labor Day Deals & Promo Codes – Marketplaces & Electronics

| Brand | Discount | Website |
| --- | --- | --- |
| 6PM | Summer Sale Up to 70% Off | Shop Now |
| Amazon US | Daily Deals Up to 70% Off | Shop Now |
| 24S | Selected Luxury Brands Up to 80% Off | Shop Now |
| eBay | Selected Electronics, Clothing and Game Consoles Up to 60% Off | Shop Now |
| Walmart | Up to 60% Off Clothing, Gadgets, Cookware and Toys | Shop Now |
| Samsonite | 30% Off Selected Baggages and Bags | Shop Now |
| Walgreens | Up to 50% Off Vitamins & Supplements|Extra 15% Off $25 with Code: FUN15 | Shop Now |
| Williams Sonoma | Le Creuset and More Cookware Brands Up to 50% Off | Shop Now |
| Nordstrom Rack | Outlet Up to 95% Off | Shop Now |
| Drop | Mechanical Keyboards, Sennheiser Headphones Up to 35% Off | Shop Now |
| Disney | Merchandise Up to 60% Off|600+ Items Further Reductions | Shop Now |
| Wayfair | Home Appliances and Cookware Up to 60% Off | Shop Now |
| GHD | Sitewide 25% Off | Shop Now |
US Labor Day Deals & Promo Codes – Sports & Outdoor

| Brand | Discount | Website |
| --- | --- | --- |
| Campsaver | Snowpeak Up to 40% Off!Full-Priced Items & Outlet 20% Off Code: SUN20 | Shop Now |
| Backcountry | 1000+ Items Up to 40% Off | Selected Items Extra 20% Offf | Shop Now |
| Columbia | 25% Off Sitewide | Clearance Up to 50% Off | Shop Now |
| Keen | Select Styles Up to 25% Off | Shop Now |
| Lululemon | 'We Made Too Much' Sale Styles Up to 60% Off | *Switch Location to USA on the Top Right Corner | Shop Now |
| Moosejaw | Selected Outdoor Brands Up to 30% Off | Full-Priced Items 20% Off Code: EGGBAG | Shop Now |
| Mountain Steals | Hiking Gear, Swimwear and Sandals Up to 60% Off | Selected Items Extra 20% Off Code: SELECT20 | Shop Now |
| REI | Biggest Sale of the Year – Up to 40% Off & Special Offers for Members | Shop Now |
| Steep & Cheap | 10000+ Items Up to 70% Off | Patagonia, Outdoor Research and More Brands Extra 20% Off | Shop Now |
| EVO | Sitewide 50% Off | Shop Now |
US Labor Day Deals & Promo Codes – Beauty

| Brand | Discount | Website |
| --- | --- | --- |
| Estee Lauder | Spend $45+ Get Free 7-Piece Gift (Up to $165 Value) | Spend $135 Get a Free Full-Size Moisturizer | Shop Now |
| Origins | Spend $90+ Get Free 4pc Spa Set, Code: CHARCOAL | Shop Now |
| Bath & Body Works | Selected Items 50% Off | Body, Skin & Hair Care Buy 3 Get 1 Free | Shop Now |
| elf Cosmetics | 2 Free Minis with $35+ Purchase | Shop Now |
| Sephora | Daily Deals Up to 50% Off | Shop Now |
| WetnWild | Buy Any Face Product Get 50% Off Any Tool, Code: GLOW50 | Shop Now |
| Glossier | Sets Up to 20% Off | Shop Now |
| Juvia's Place | Sculpt & Mesmerize 50% Off | Shop Now |
---