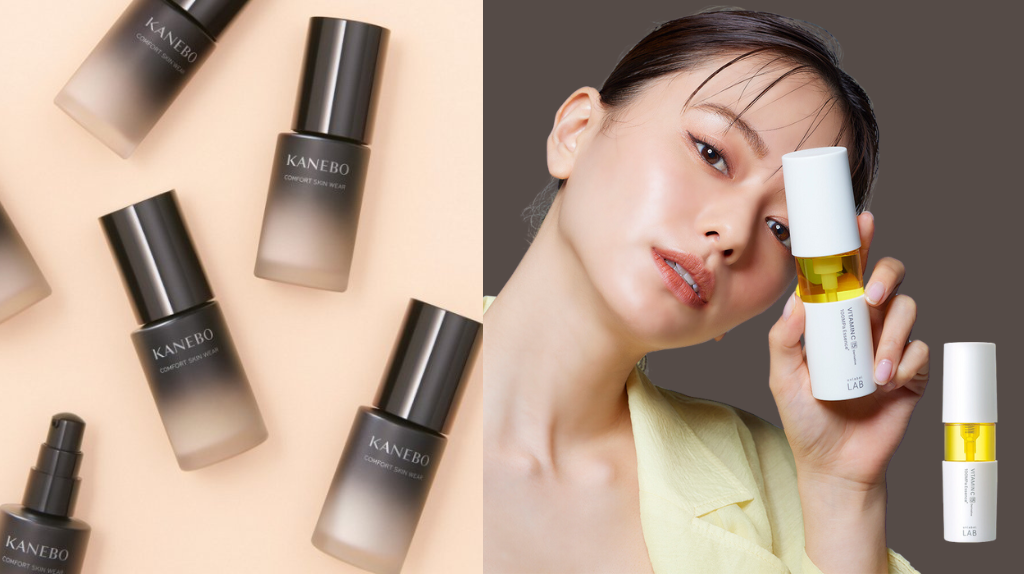 Are you searching for the best skincare options on Rakuten? Look no further! We have selected the hottest Japanese skincare products on Rakuten Japan, from cosmetics to cream and essence, finish your day with a touch on the site! Explore our hand-picked collection and enhance your skincare routine with the finest Japan products.
Contents
→ Best Skincare to Shop on Rakuten
→ How to Shop Skincare from Rakuten Japan
Best Skincare to Shop on Rakuten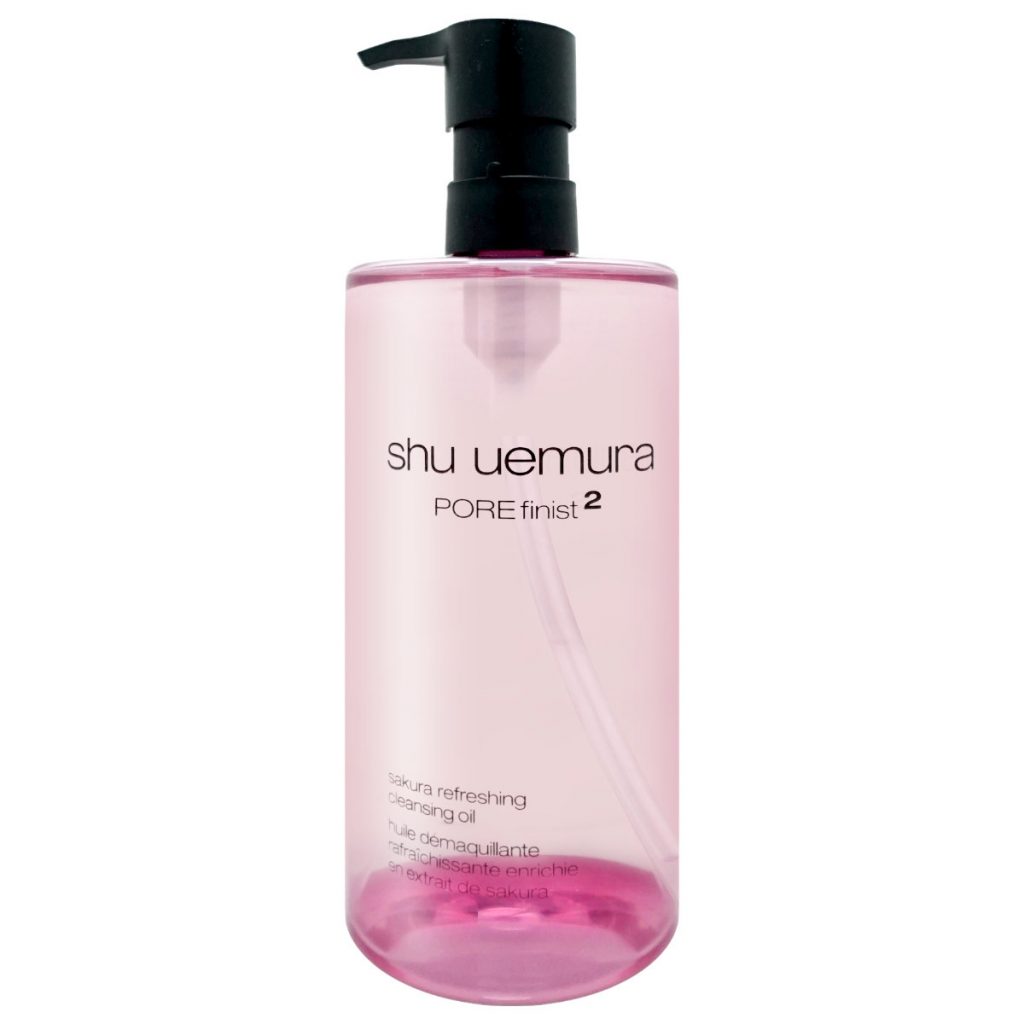 1. shu uemura POREfinist² sakura refreshing makeup cleanser for blackheads
This gentle yet effective cleanser effortlessly removes makeup, targets pore concerns and leaves your skin feeling fresh, moisturized, and shine-free. With shu uemura's advanced technology and natural ingredients, it's infused with the calming fragrance of a blooming sakura garden, creating a relaxing and refreshing makeup removal.
Malaysia Price: RM375.00
Rakuten Price: RM246.51(JPY7889)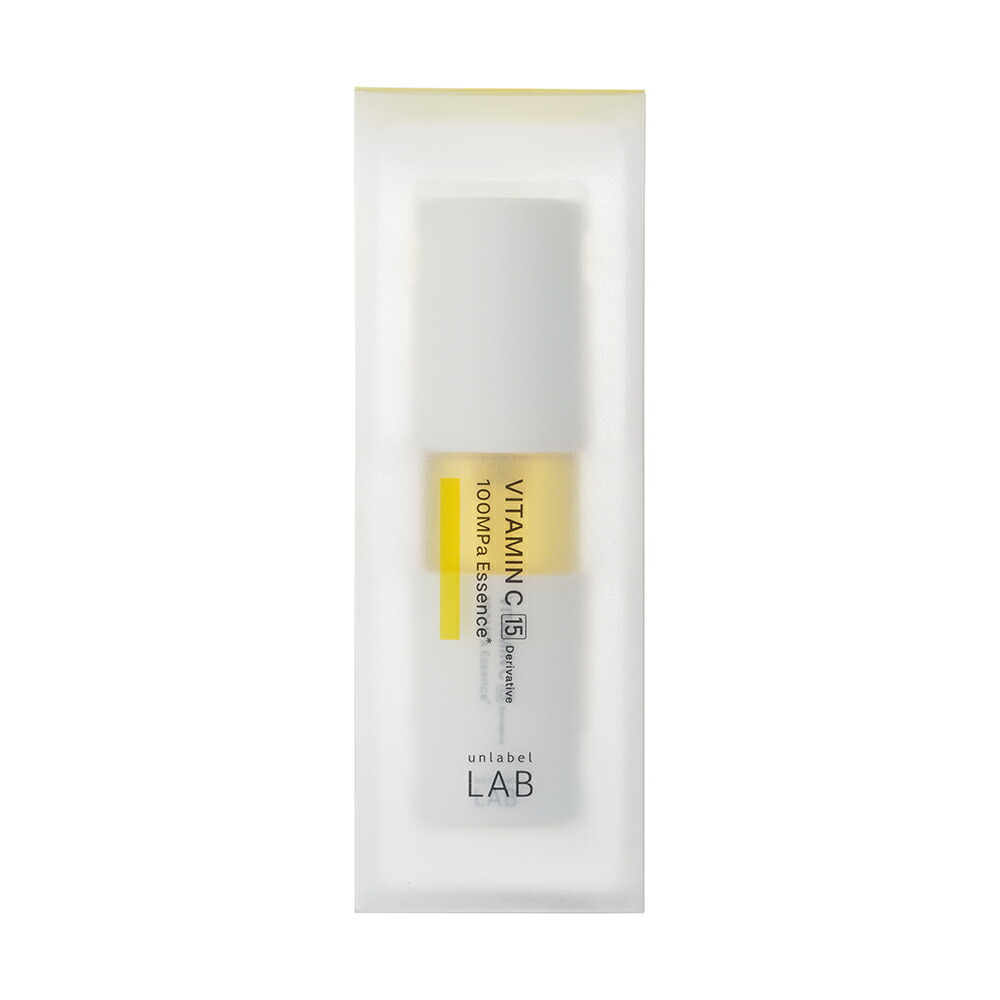 2. unlabel LAB V Essence (Vitamin C)
Unlock the power of Unlabel LAB's technology! The professional serum targets pores, dullness, and skin texture. With 100MPa vitamin C, the serum penetrates deeply to brighten and tighten your skin for up to 48 hours. Clinically tested and free from harmful ingredients, indulge in the ultimate relaxing skincare for your daily needs!
Not available in Malaysia.
Rakuten Price:RM62.58(JPY1,980)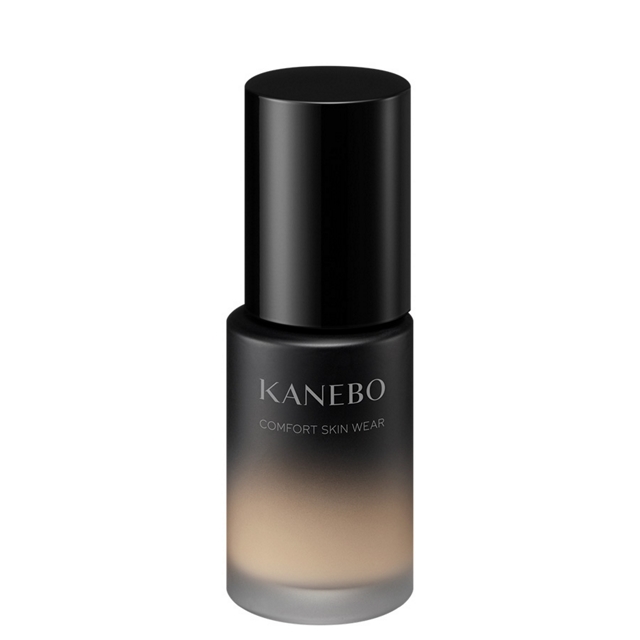 3. KANEBO COMFORT SKIN WEAR (shade: BEIGE C)
The new technology by KANEBO brings a soft, radiant look to this liquid foundation. Enjoy a long-lasting, supple veil without any separation and the moisturizing effect that makes your skin as newborn since it keeps your skin hydrated! The foundation also achieves a flawless, lightweight finish without the need for a makeup base, concealer, or face powder, perfect for sticky weather.
Rakuten Price:RM198.7(JPY6,390)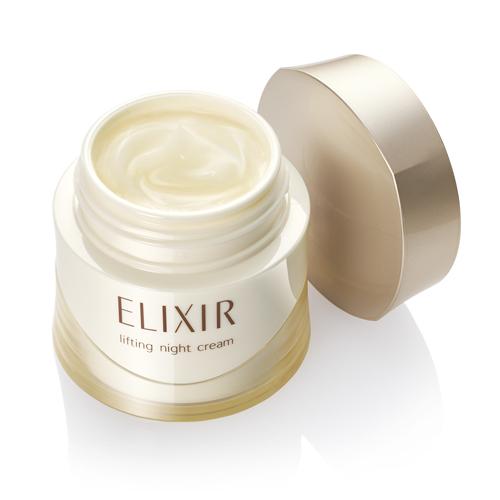 4. Shiseido ELIXIR SUPERIEUR lift night cream
Experience the transformative power of Elixir's Lift Night Cream! This moisturizing anti-aging cream creates a protective moisture barrier, leaving your skin plumping and bouncy to achieve beautiful firmness and maintain fresh, moisturized skin. Let's indulge in the relaxing aqua floral scent for the ultimate night-time skincare routine!
Not available in Singapore.
Rakuten Price:RM173.84(JPY5,500)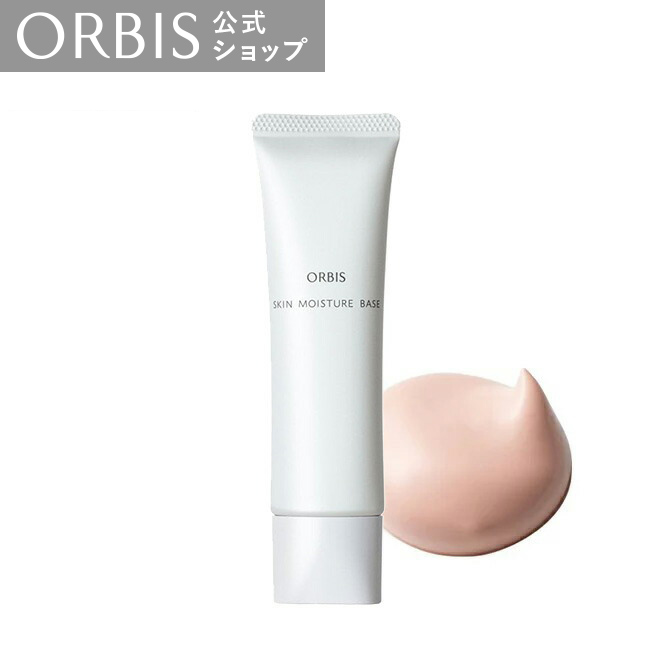 5. ORBIS Skin Moisture Base
The moisturizing makeup base of ORBIS offers weightless and long-lasting coverage. Its gentle pinkish tint enhances your natural skin tone, erasing dullness and promoting a healthy glow while the blend of honey and hyaluronic acid improves moisture and firmness. Shield your skin from UV damage and air pollutants in this base!
Not available in Malaysia
Rakuten Price:RM48.68(JPY1,540)
Note: Product prices, quantities etc. may change due to sales. All subject to change.We do not own any of the pictures above nor affiliated with the brands mentioned. All credits are due to all of the brands featured in the article unless otherwise specified.
How to Shop Skincare from Rakuten Japan
Step 1:Go to Buyandship website to log in or register as a member.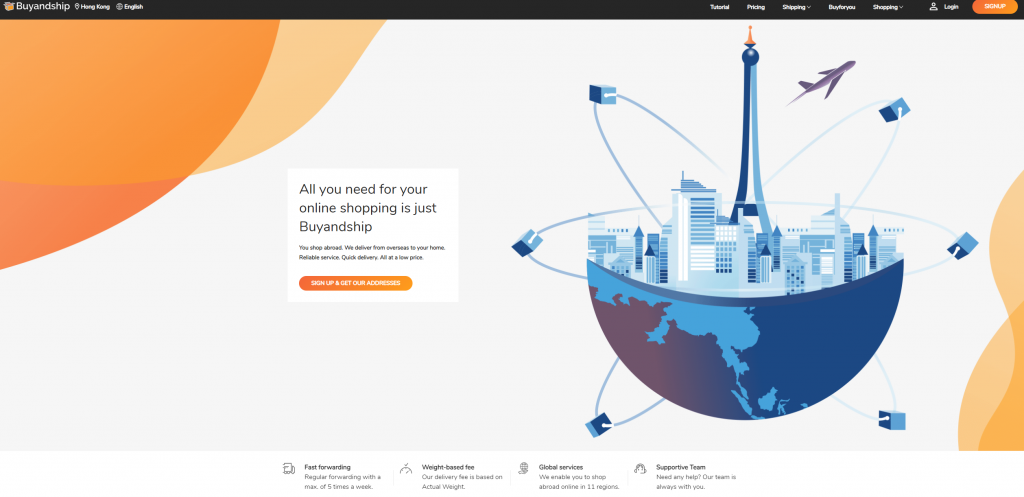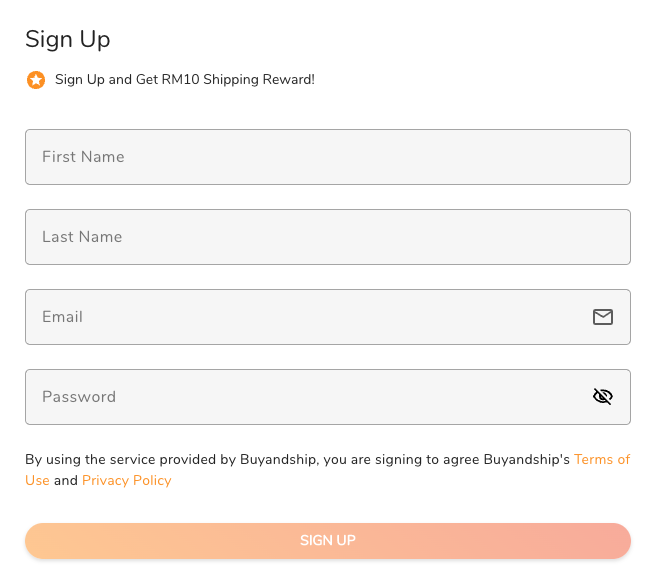 Step 2:Fill in your first and last name, email address and set your account password. Click "Sign Up" once details are completed.
Step 3:Browse on Rakuten to pick your favourite item, you can add item into your cart or checkout immediately.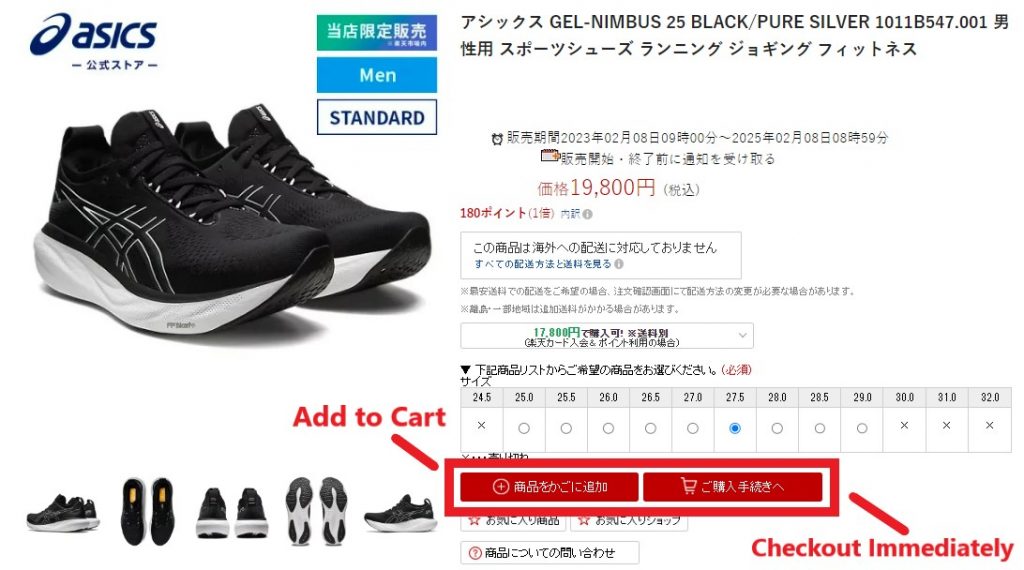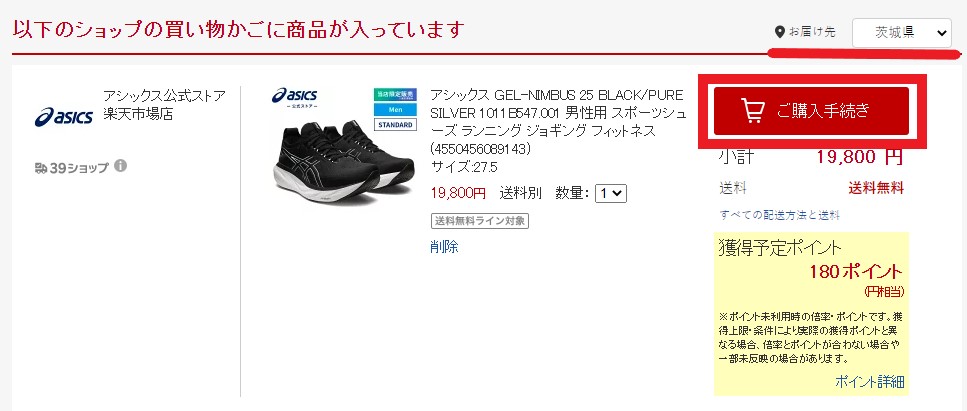 Step 4:Go to your shopping cart, select "茨城県 (Ibaraki Prefecture)" as the shipping location from the upper right corner.
Check and make sure correct items are added into cart, and proceed.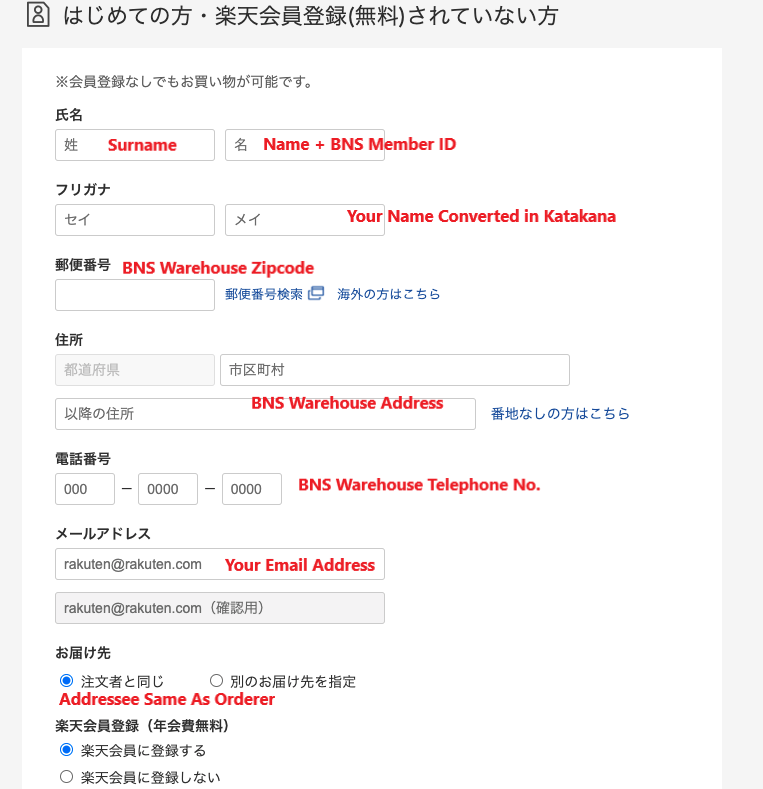 Step 6:Fill in delivery address. Go to the "Overseas Warehouse Address" on your Buyandship member centre and select "Japan" to view the information of Buyandship's Japan warehouse.
In the name session, please enter your name and Buyandship membership number (e.g. MYXXXXXX). For the "フリガナ", you need to convert your name into Japanese Katakana (click here to convert). Once it's converted, copy and paste it onto the name bar.
Step 7:You can choose whether to register as a member on Rakuten. If you don't want to register, you can click the second box "楽天会員に登録しない".
It's highly recommended to register as a member if you shop often on Rakuten as you can save payment and shipping details on your account for faster checkout next time, and earn points!
Set your password if you proceed with registration.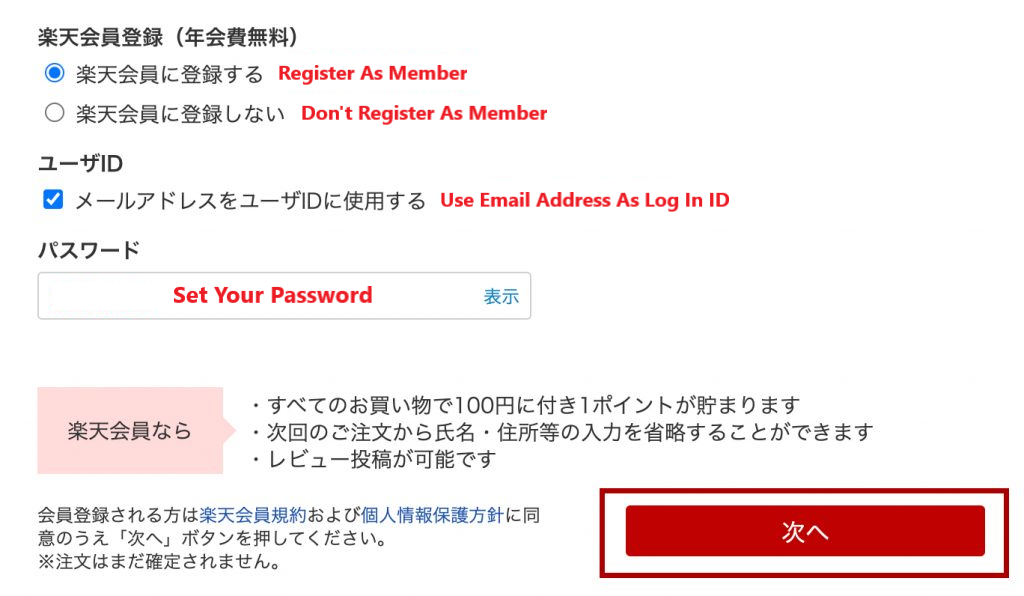 Step 8:Proceed onto payment page, fill in your credit card information to settle the payment, and then click "次へ".
Step 9:Confirm your order information, and then click "OK" (the red box shown). You'll receive email confirmation once order is submitted.
Step 10:Once you've received a shipping notification email from Rakuten, go to your member centre and declare the shipment on Buyandship to receive your package as soon as possible!
💡 Members can purchase Buyandship Plus during the parcel declaration process. The fee will be 3% of the declared value of your parcel, which will be collected together with the delivery fee (minimum of RM15 will be charged).
---