Rakuten Japan (www.rakuten.co.jp), an online mega-marketplace from Japan, provides over 50,000 Japanese merchants with over 10 million Japan products, with much cheaper prices compared to local prices in Malaysia!
For Black Friday on Rakuten, Buyandship is offering an exclusive ¥1000 coupon for first-time shoppers on Rakuten Japan. Check our tutorial on how to register, shop, and get the coupon in Rakuten Japan, also our must-buy list in ¥1000!
Table of Contents:
► Buyandship x Rakuten Japan Exclusive Coupon Details
► Must-Buy Items from Rakuten Japan in¥1000
► Rakuten Japan Registration Tutorial
► Rakuten Shopping Tutorial
► Terms and Conditions
Buyandship x Rakuten Japan Exclusive Coupon Details
Offer
Promotion Details
Promotion Type
Rakuten Japan Shopping Coupon for New User
Validity Period
2023/11/21 00:00 ~ 2023/11/27 23:59 (JST)
*Please be noted that it's in Japan time, which is one hour faster than Malaysia.
Discount
JPY1000 Off a single order of JPY1000 or above
Applicable Shops
Over 50,000 shops on Rakuten Japan
Terms and Conditions
Limited to the first 2000 eligible orders on a first-come-first-served basis.
Exclusively for members who haven't made any purchases on Rakuten Japan.
1 time use per Rakuten Japan new User
Cannot be used in conjunction with other coupons
Coupons are only valid for Rakuten Japan orders shipped to Buyandship's Japanese warehouse address.
Get Coupon
Click: https://bns.is/3MM3Tqn
Must-Buy Items from Rakuten Japan in¥1000
QUALITY 1ST – Vitamin C EX All in One Sheet Mask
An iconic mask brand with over 20M units sold! Packed with five types of high-concentration vitamin C, potent niacinamide, and selected collagen for ultimate brightening.
Dermatologist-tested for sensitive skin, targets pores, dryness, dullness, texture, and elasticity perfectly!
JP Price:RM32.74 (JPY1,045)
BEAMS JAPAN – LOGO Sushi Tea Cup
Get into the forefront of Japanese Fashion in 1000 Yen!
BEAMS JAPAN collaborates with the Pottery City Toki, Gifu to create these sushi tea cups with the signature logo of BEAMS, blending traditional aesthetics with trendy innovation. Now available in the classic red and navy blue!
Not available in Malaysia.
JP Price:RM34.36 (JPY1,100)
CANMAKE – Silky Souffle Eyes M06
Try the Makeup Brand beloved by Tokyo Budget-savvy gals! Among all of their best-selling eyeshadow palettes, We recommend the Sliky Souffle Eyes with 3 matte shades and 1 glitter.
Besides the sophisticated Lima Greige, there are 10 more options in either chic or sweet styles!
MY Price:RM69.00
JP Price:RM25.77 (JPY825)
ZOOLAND – 100% Cotton Kids T-shirt
As the top-selling kids' brand on Rakuten, Zooland's finest quality and cute designs are trusted by numerous moms.
This hand-drawn style T-shirt creatively interprets classic Japanese folk tales featuring the mighty cat Kintaro and a dinosaur version of Momotaro. Available in sizes 80-100, perfect for different ages!
Not available in Malaysia.
JP Price:RM37.79 (JPY1,210)
AKOYA PEARL – Saltwater Pearl Necklace
Originating from the Uwa Sea, Akoya Pearls are famous saltwater pearls that are more precious than freshwater pearls!
With a delicate size of 5.0-5.5mm, these pearls offer simplicity with elegance, suitable for various occasions. As they are naturally formed without artificial coating, each pearl possesses a unique and natural hue.
Not available in Malaysia.
JP Price:RM31.23 (JPY1,000)
DRIP COFFEE FACTORY – Assorted Drip Bag Set 3×5 Cups
The selected coffee beans from Ethiopia, Brazil, Vietnam, and more, have created 3 styles of medium-roasted house blends – the Classic Blend, the Mocha Blend, and the Gold Blend, each differed in aroma, acidity, and bitterness.
Not available in Malaysia.
JP Price:RM31.23 (JPY1,000) / 15 packs
Ebisoba Ichigen – Shrimp & Miso/Shrimp & Salt Ramen 5 meals
The rich and creamy sweet shrimp soup of the best ramen in Sapporo always captivates locals and global travelers alike!
This 5-meal set includes two of their signatures – 3 packs of Shrimp&Miso and 2 packs of Shrimp&Salt Ramen, allowing you to taste authentic Japanese ramen at home!
Not available in Malaysia.
JP Price:RM33.73(JPY1,080)
OH! Sakana – Popular 3 bag Almomd Dried Fish Set
Each pack (100 g) contains about 800mg of calcium and nutrients that are beneficial to the human body, such as protein and dietary fibre.
In this assorted package, you can find sesame, shrimp&seaweed, and cheese&sakura flavor, there is always one, or three that suits you!
Not available in Malaysia.
JP Price:RM33.73/3 packs(JPY1,000~JPY1440)
ROYCE – Potatochip Chocolate "Original" 190g
The unique confection of the renowned chocolate brand combines light, crispy potato chips with a melty milk chocolate coating on one side, achieving an addictive balance of sweetness and saltiness!
MY Price:RM55.00
JP Price:RM26.99 (JPY864)
Imabari Towel – 60×120 hotel bath towel
"Imabari Towels" refers to high-quality towels produced in Imabari City, Japan. Towels that pass 12 inspections receive the "imabari towel Japan" certification, known for their softness and favored by consumers.
You can own a hotel-grade bath towel for 1000 yen, which is also available in various sizes and thicknesses!
Not available in Malaysia.
JP Price:RM43.10 (JPY1,380)
How to register as a Rakuten member?
Step 1: Visit the Registered as a Rakuten member page, and click the red button to create a new membership. You can choose "English" in the top right corner.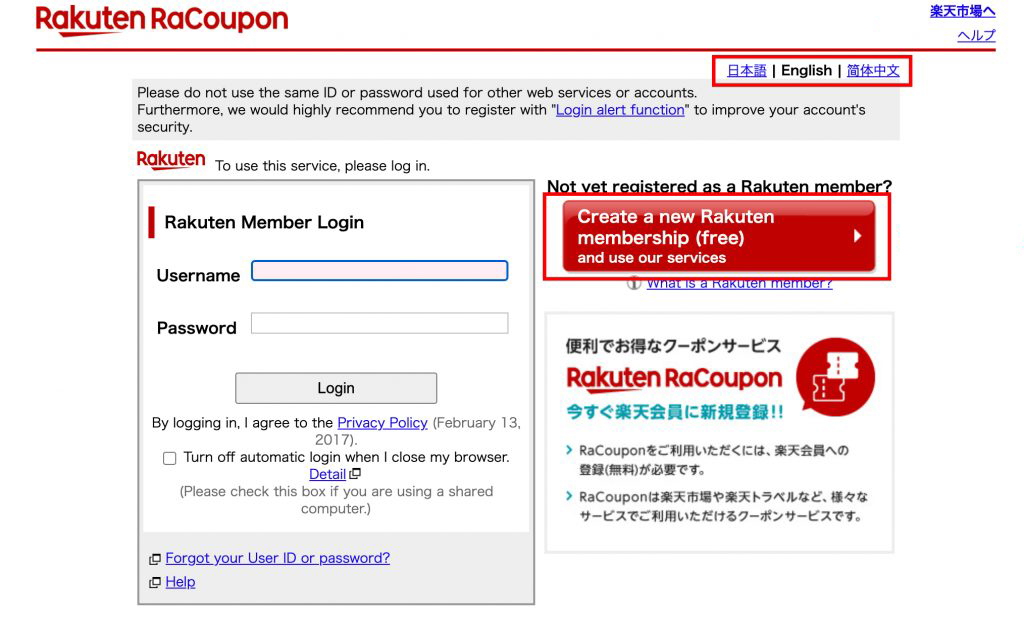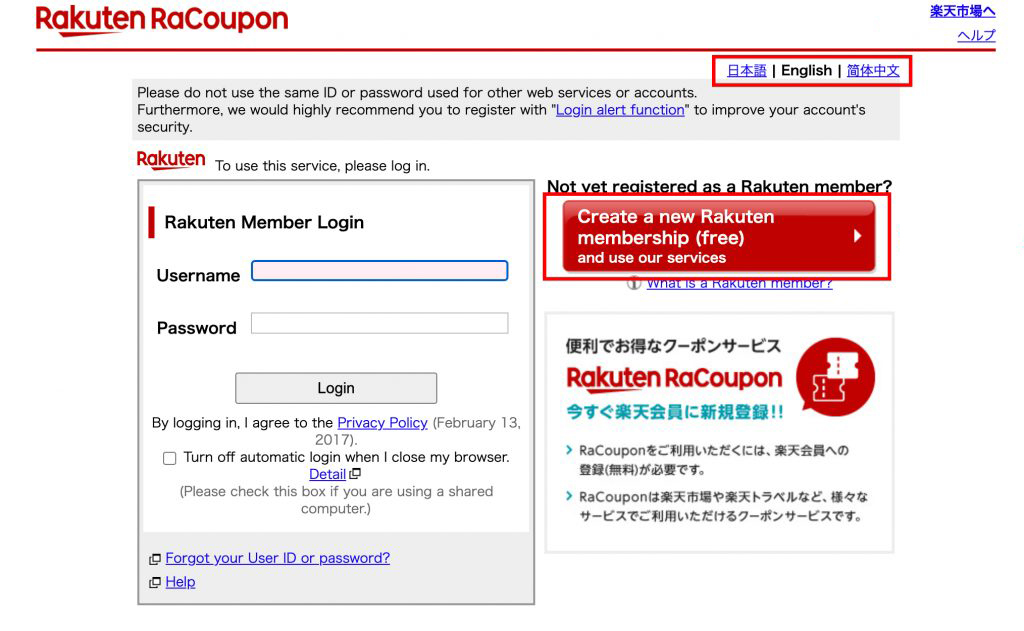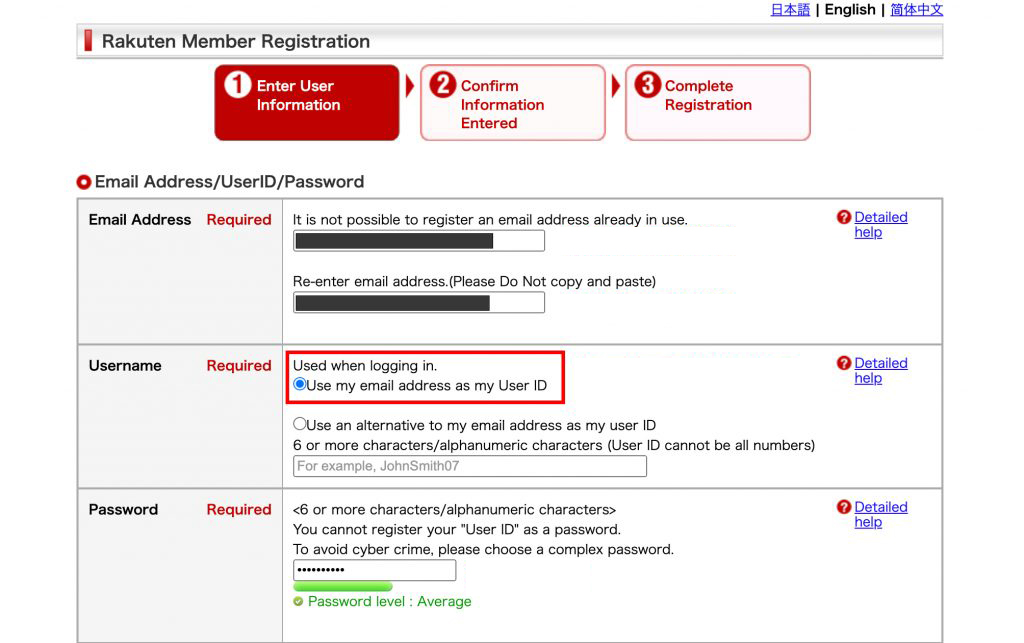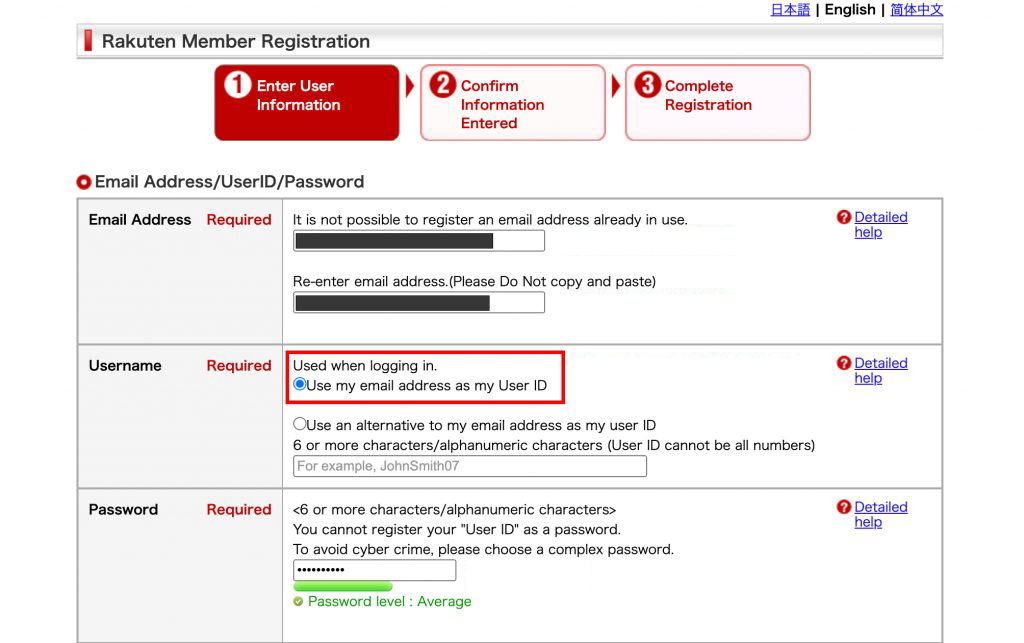 Step 2: Enter the user information. Please fill in an email address that is frequently used to make it easier to check the order update.
Step 3: Please enter your real name. Your Buyandship user ID will be added in the later stage.
Click "Next Step" after you complete filling in all the information.

Step 4: Click "Register Rakuten Membership" after you confirm all the information is correct.
Step 5: Click "Continue using services".
Your registration is not completed yet at this stage. Follow below steps to avoid getting banned.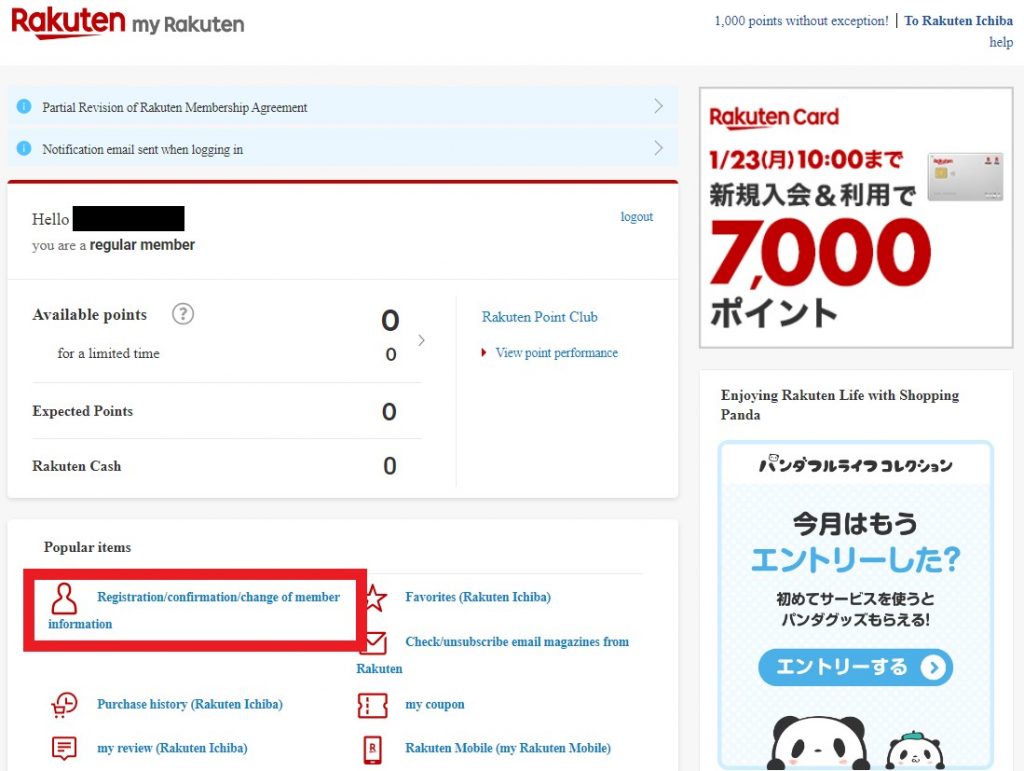 Step 7:Click "Personal Information".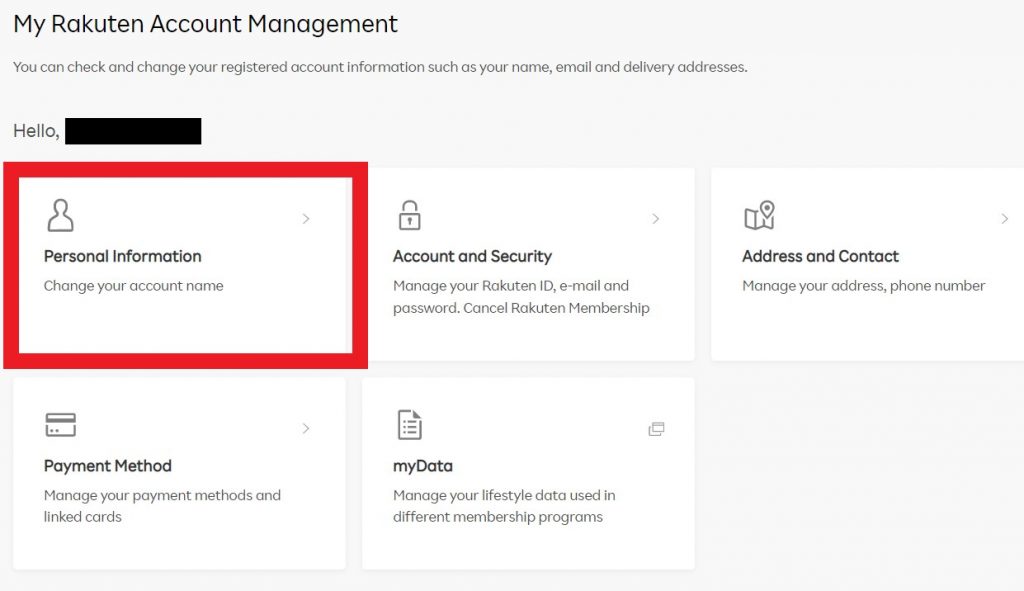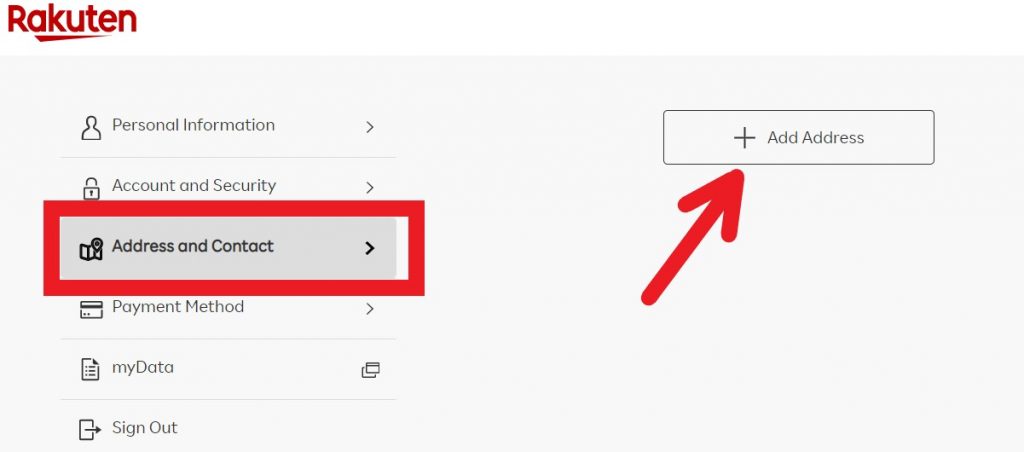 Step 8:Click "Address and Contact", then "Add Address" to add your personal address.
Step 9:Fill in your country of residence and personal address (NOT Japan address!). Click "Add" to save and proceed.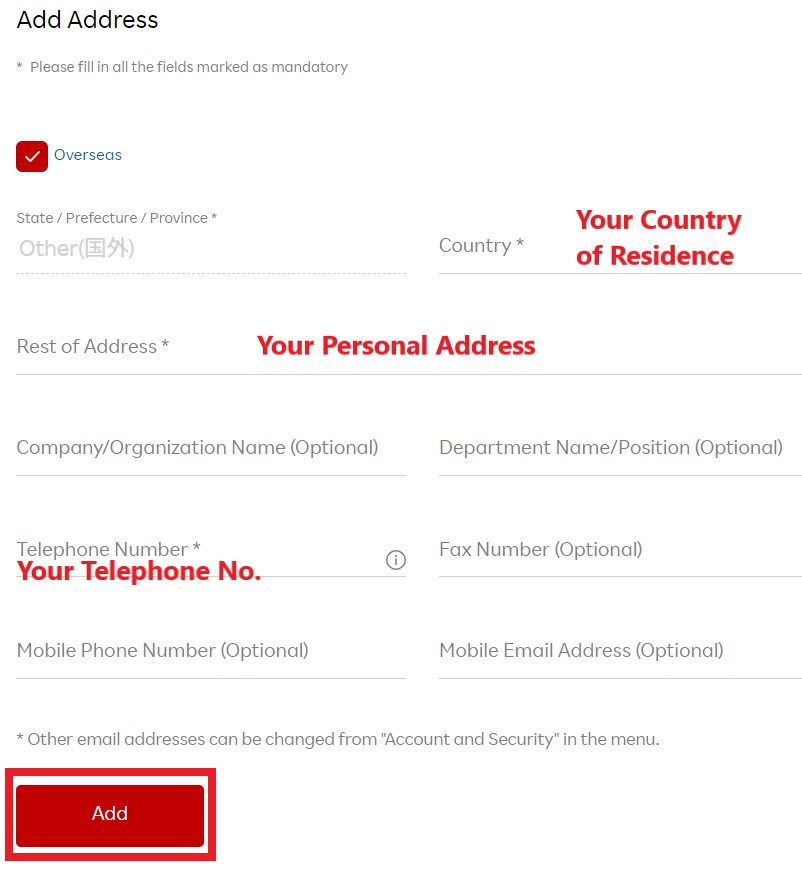 Step 10:Once you've completed registration and added your personal address, click this link here and add Buyandship's Japan warehouse address into the address book.
Step 11:Fill in delivery address. Go to the "Overseas Warehouse Address" on your Buyandship member centre and select "Japan" to view the information of Buyandship's Japan warehouse.
Don't forget to include your Buyandship member ID with your name!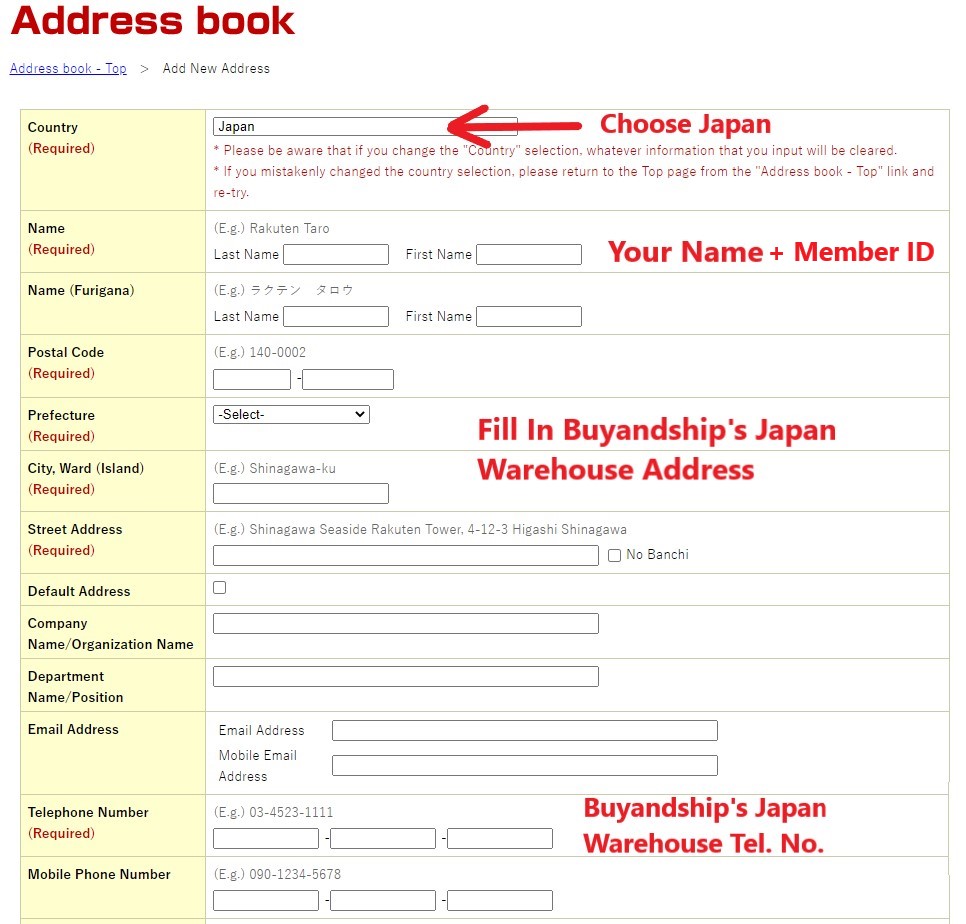 How to shop from Rakuten?
Step 1: Visit Buyandship Website and register a new account. If you already have an account, please log in directly.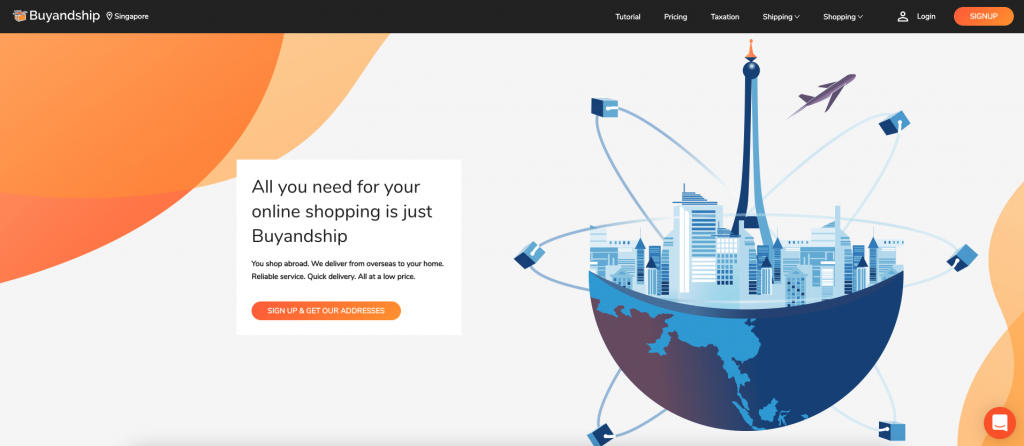 Step 2: If you need to sign up, please fill in your name, email and password. Click "Sign Up" after completion, and verify your phone number and email.
Step 3: Visit Rakuten Japan, choose your famous items and add those items to the cart. Or, just place an order directly by clicking the right button.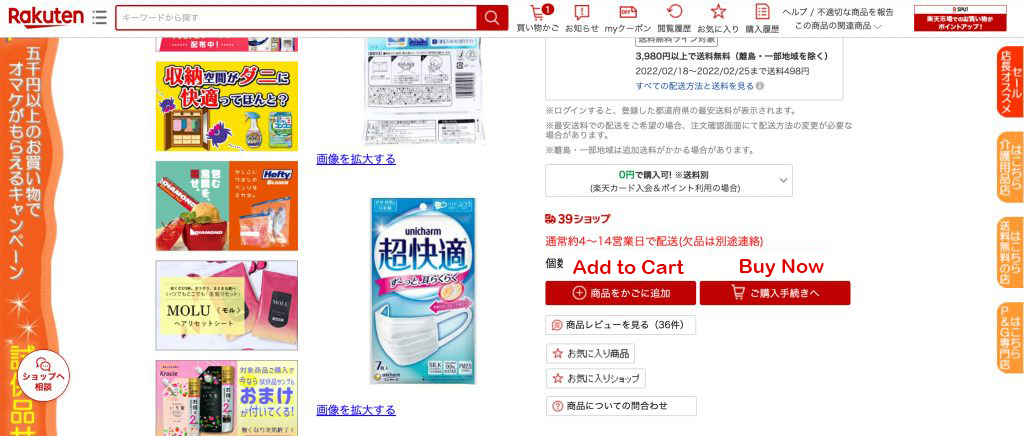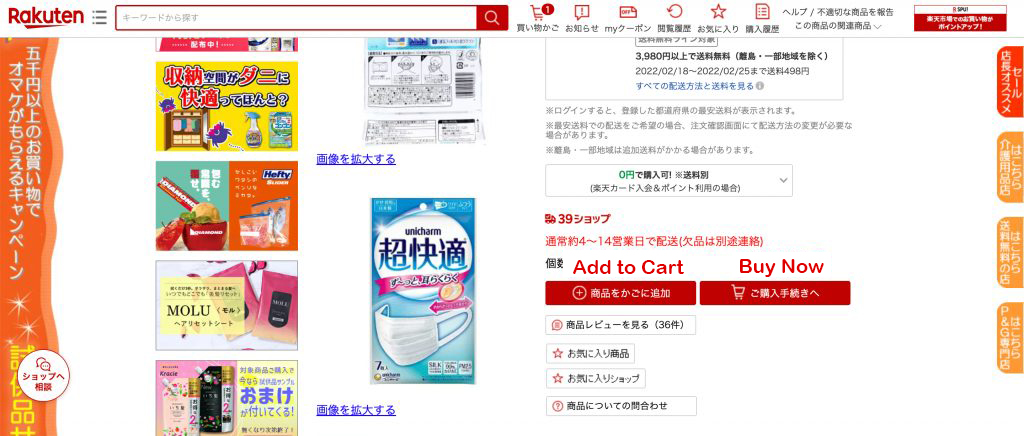 Step 4: After you enter your cart, you can change your delivered area to "茨城県 (Ibaraki)". You can go to the next page after you confirm the items are correct.
Step 5: Log in as a Rakuten member, or just click the red button on the right-hand side.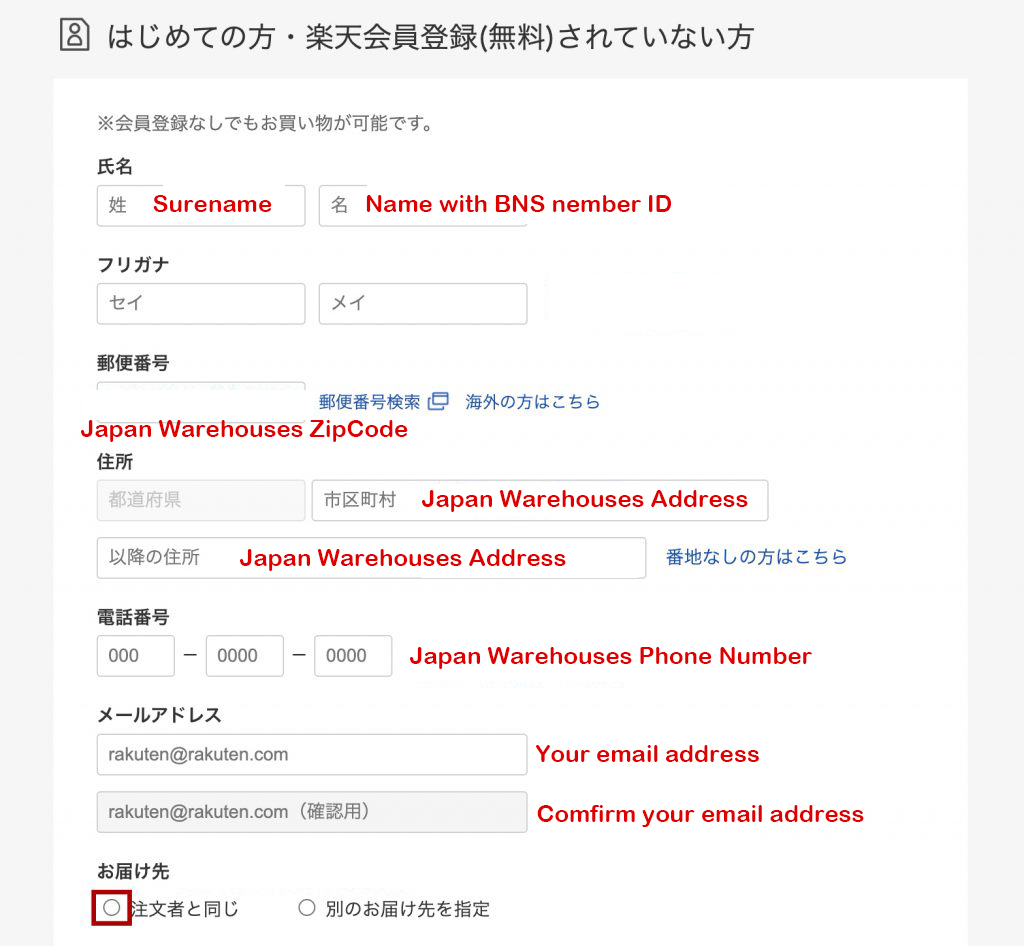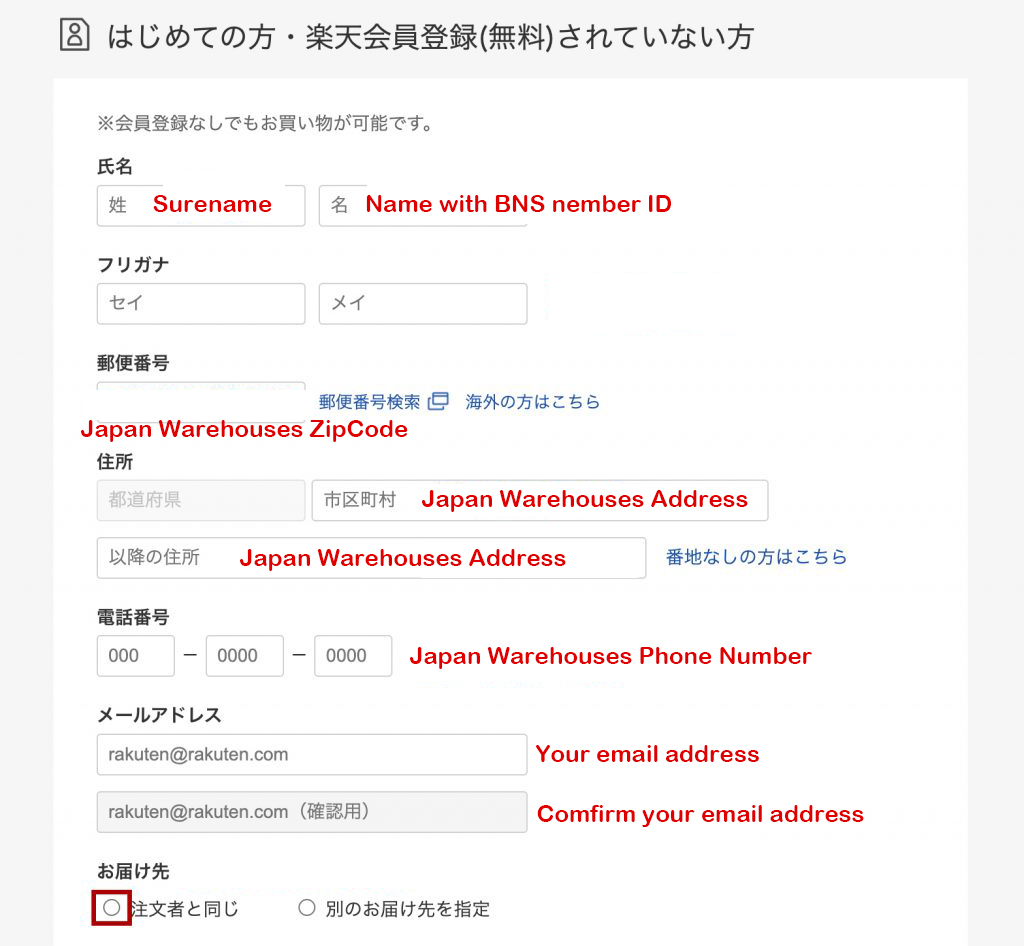 Step 6: Fill in your delivery address by visiting the "Warehouses" on the Buyandship website and choosing "Japan". You can access to Buyandshhip Japan warehouse address.
For the recipient, you need to fill in your Buyandship member ID (eg. MYXXXXXX), apart from your own name.
For "フリガナ", it requires a name in Katakana form. You can convert your English name into Japanese by using the Namehenkan or japanga website. After you translated your name, you can paste it onto the Rakuten website.
Step 7: You can choose whether you need to register as a Rakuten member.
If you are frequently shopping at Rakuten Japan, we highly recommend you register as a member. Not only you don't need to fill in the delivery address and credit card information again, but also credits will be rewarded.
If you choose to register, you need to set a password.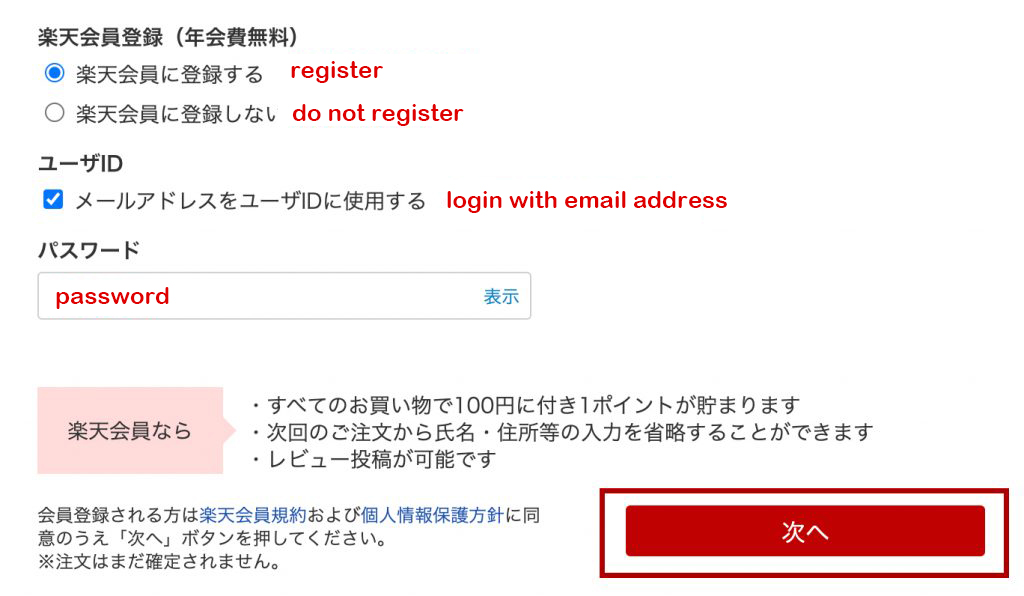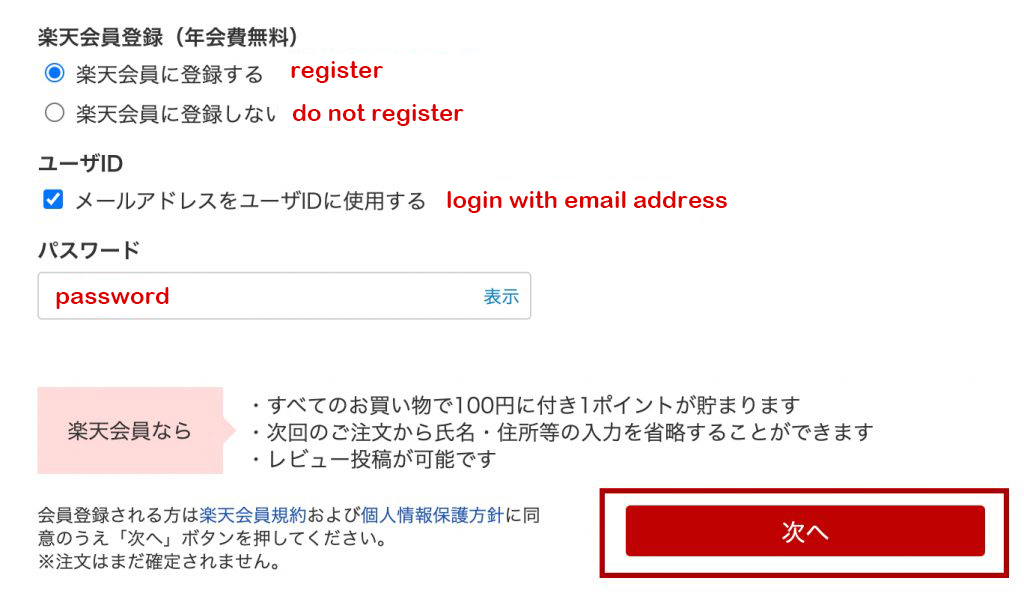 Step 8: You can fill in your credit card information after you enter the payment page, and click "次へ (Next Page)".
Step 9: You can place an order if you confirm the items are correct. You will receive an email after the order was confirmed.
Step 10: After your order has been shipped, the merchant will send you a notification email with the tracking number. You should declare the parcel asap.
Terms and Conditions
Discount can be applied to a new user 's first order on Rakuten Japan.
Offers are limited to the first 2000 eligible orders on a first-come-first-served basis.
Offers are only valid for Rakuten Japan orders shipped to Buyandship's Japanese warehouse address.
Each Rakuten Japan's new user can use it once.
Not applicable in conjunction with other coupons.
In the event of order cancellation, the coupon will be refunded to the user's account.
Please note: Opening new accounts solely for promotional benefits is not recommended. According to Rakuten Japan's membership agreement, having multiple accounts may result in the accounts being suspended, and accrued points may become unusable.
In the case of any dispute, the decision of Buyandship Malaysia shall be final.
---