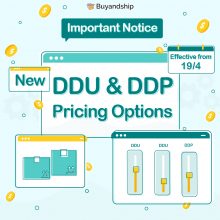 We are going to introduce a new pricing plan which provides you with more options.
With effect from April 19th, 1 p.m.(local time), the new pricing plan offers THREE options of three couriers and two new delivery methods. You can choose whichever fits you the most.
For the details of the change, please refer to the post's content.
Thank you for choosing us.
Continue Reading →