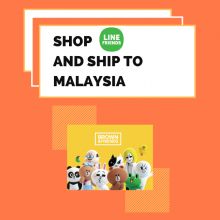 Since LINE FRIENDS are always with you, how's your day? You might have an ordinary morning, bit tough moments, or a heart-touching moment in the afternoon from someone's sweet word.
So do BROWN & FRIENDS! They laugh and bicker with their loved ones. Just like us! They are with you and I for the moments we live.
All of their characters look so cute and we sure you want to get all the merchandise from their official store in Japan. The bad thing is, LINE FRIENDS Japan store doesn't ship outside Japan, thus you have to get a free Japan address for your order and ship to Malaysia via a reliable parcel forwarder. That's why Buyandship is here to help.
Continue Reading →