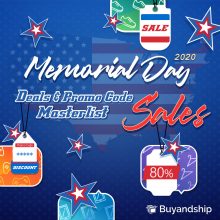 Memorial Day Sale is officially here! The holiday weekend not only marks the unofficial start to summer, but it's also a great opportunity to find incredible deals from all your favorite US online stores.
Memorial Day Sale includes discounts on everything from clothing, shoes, accessories, beauty products, baby care products, handbags, home appliances to laptops, headsets, electronics, and other essentials.
So if you have something on your shopping list, this is the best time to shop!
Continue Reading →