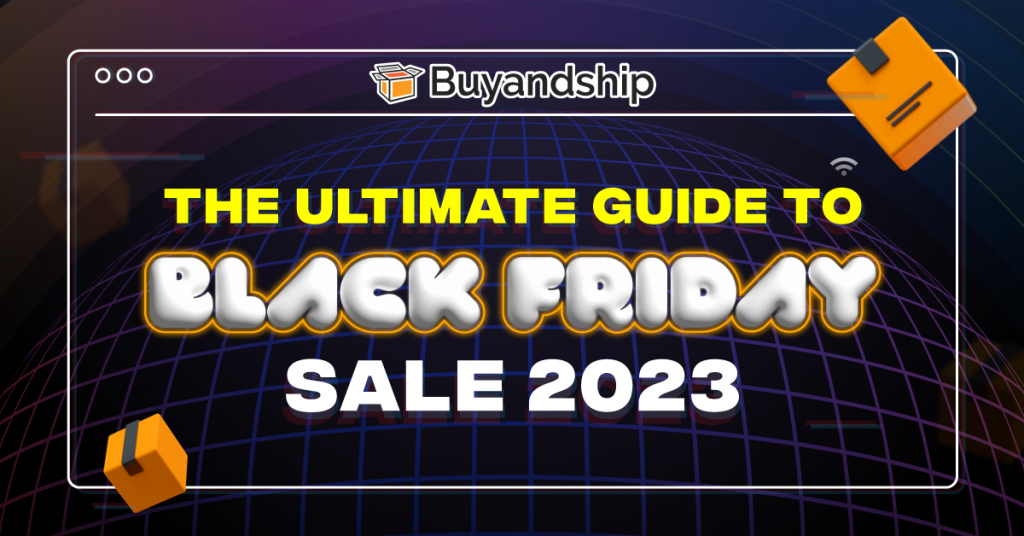 Get your wallets ready because Black Friday Starts Soon! Sales Promotion like Thanksgiving, Black Friday and Cyber Monday are three of the most anticipated shopping events of the year. Since there'll be tons of deals out there, we suggest making the most out of it by planning ahead. Don't know where to start? Here's everything you need to know about to get you prepared for the biggest shopping event!
Before you start your Black Friday shopping, Our editor has sorted out the 3 major phases that you need to know for preparations beforehand. Bookmark this, it's your must-read guide before Black Friday! The guide includes:
► What is Black Friday?
► Black Friday 2023 Time and Date
► Important Notes on Preparation
What is Black Friday?
Black Friday is an unofficial name for the Friday after Thanksgiving in the United States. Thanksgiving is a big annual holiday in the US, scheduled on the 4th Thursday in November every year, followed by Black Friday and Cyber Monday, which have become big shopping days in the US, and online stores will offer a series of discounts.
Even brands and products that don't usually have price cuts will have surprise price reductions and discounts, and they can even be sold at a price as low as 90% off. It is a big online shopping festival that the world is also looking forward to!
Black Friday 2023 Time and Date
Be sure to keep an eye out for the following 3 dates and times! There's a 3-hour difference between the East Coast and West Coast of the United States, and most online stores will follow the West Coast time. Black Friday starts at 00:00 local time, which is 4:00 pm Malaysia time. Of course, there are also many online stores that will also have Pre-Sale or launch special discounts in advance. Basically, in the morning of Malaysia time, you can pay attention to the major online stores in the United States to capture the discounts! And some online stores in the United Kingdom, Japan, Australia, Italy, Canada and other places will start their Black Friday discounts in local time!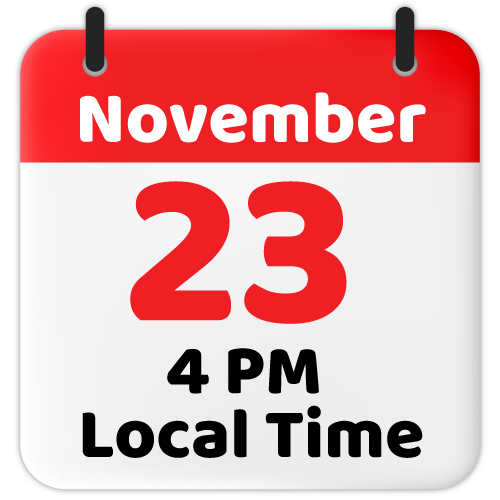 Thanksgiving
Scheduled every year on the last Thursday of November; Thanksgiving this year happens on 23rd November (US time), most online stores that sell fashion, footwear, baby products, toys, personal care, sports or outdoor products, electronic products and more, will offer discounts. There will be Pre-Sale before then too which you should keep an eye on because you're able to grab items for great prices too!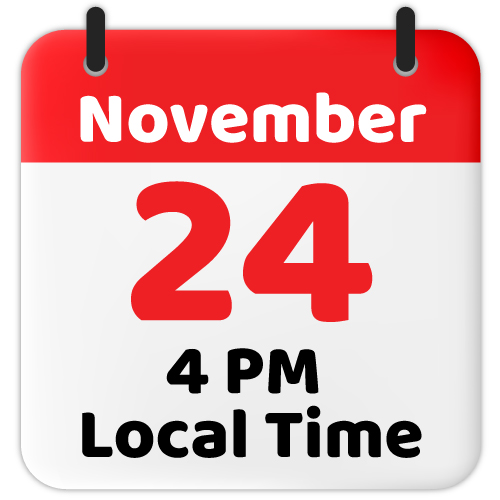 Black Friday
Usually, the day after Thanksgiving is Black Friday, and online stores offer the best discounts of the year! Not only may it be as low as 90% off, but there are also many limited-time and flash offers, such as "One Day Coupon Code" and "24 Hours Flash Sale", which can only be purchased at the designated time of the day, this is a day that you should not miss for online shopping!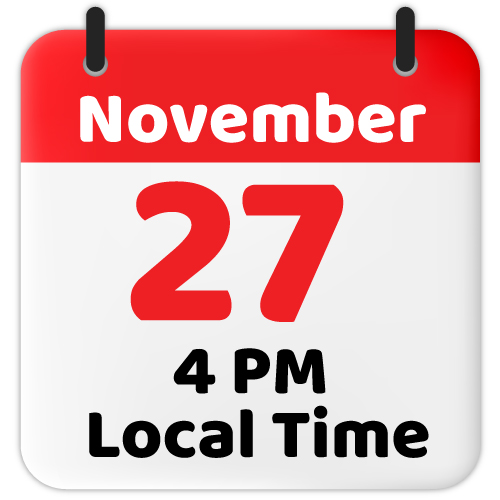 Cyber Monday
This is definitely a paradise for those who like to buy electronic products! Cyber Monday mainly is about offering discounts on major electronic products, such as computers, smartphones, digital cameras, home stereos, game accessories and more. Many online stores will also have offers that stretched from Black Friday to Cyber Monday. Reward yourself at the end of the year with Cyber Monday deals!
Important Notes on Preparation
【Obtain Overseas Warehouse Address】
The first step in preparing for Black Friday is to sign up for a Buyandship membership! Since most overseas websites do not provide international shipping services, even if they do, the shipping costs are absolutely overpriced. Only by obtaining the overseas warehouse address of Buyandship, you can get your Black Friday shopping from overseas to be transported to Malaysia safely and efficiently with the most affordable freight~
💡Online shopping tips:
When browsing the Amazon website in each region, you need to enter the area code (Zipcode) of the corresponding region to view the inventory and regionally limited discounts.
【Prepare Your Shopping List】
Whether you are a regular online shopper or new to overseas online shopping, you must browse your favourite online shopping website and products in advance. Register as a member of the online store and pre-fill in the delivery address, and add products to the bookmark or add to wish list for quicker checkout – so that you can grab your favourites in the discount period where every second counts!

💡 Tips for browsing overseas websites:
What should I do if all the overseas websites are in foreign languages and there is no English page? Our editor recommends downloading Google Chrome Translate Extension and use it to convert the entire webpage into English. Browsing foreign languages is easy and hassle-free!

Some US websites need to use the local network to browse, otherwise they will automatically jump to the website where your IP is located, or even cannot connect to the website. If this happens, there are two ways to deal with it:

Method 1:Open "Incognito Mode / Private Browsing" in the browser, and then change the location of the website to "United States / U.S.A."
Method 2:Connect to a US VPN and browse. It is recommended to use a safe and reliably-paid VPN to avoid personal data leakage during payment to ensure personal data security. (Recommended VPN: Express VPN, NordVPN, SurfShark)

【Compare the Price of Your Favorite Product】
The brand's official online store may not always have the best discounts, and sometimes other online shopping platforms or sellers may have higher discounts! For example, if you're looking to buy a pair of sneakers, you can visit popular sneaker online stores such as Stock X, Eastbay and Footlocker for unexpected discounts or even more sizing to choose from! You don't need to buy from official websites every-time!
【Get Your Payment Methods Ready】
Although most overseas online stores will accept credit cards issued by local banks, there are also a few that do not accept them. Remember to prepare multiple valid credit cards in advance. It is recommended to use a credit card which you've successfully made purchases on international websites, or set a higher purchase limit with your bank in advance if necessary.
You can also apply for a Paypal account in advance because some websites only accept Paypal as a payment method. Don't have a PayPal account? Sign up for one now to avoid wasting precious minutes of your shopping time!
💡Tips for Online Payment:
If your order is being cancelled after payment, you can try the following three methods to pay:
Method 1:Try with another credit card;
Method 2:Pay with American Express credit card;
Method 3:Pay with Paypal
Don't get frustrated even if your order is being cancelled by the online store – try switching to another payment methods and you're more likely to get your orders confirmed and shipped!
【Be Aware of Shipping Restrictions】
Please be sure to check the ingredients of the product before purchasing the product. The following products are prohibited items for shipping:
Gas and Compressed Gas
Any products marked with the words "CBD" or "cannabidiol"
Flammables (Nail polish, hair dye products)
Powdered Formula (milk powder for infants and young children)
Living Plant, Seed, Seed Bulbs
Raw Meat and Uncooked Seafood
Perishable Foods
Guns and Related Accessories
Explosives
Magnets
Due to the differences in prohibited items in different countries, please refer to the "Prohibited Items Catalog" for a detailed list of prohibited items.
【Be Aware of Free Shipping Requirements】
During Black Friday, most websites will have domestic free shipping discounts. Remember to check the shipping and free shipping requirements before paying! Some may require your order to be reached to a specified amount, and some may need to enter a discount code to get free shipping. Avoid wasting money on shipping!
---